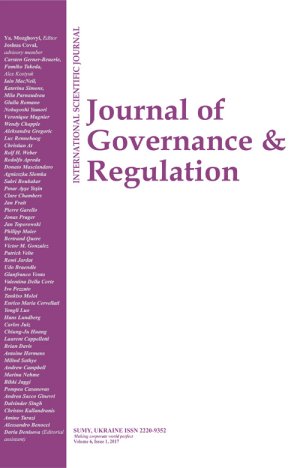 A strategic corporate governance framework for state-owned enterprises in the developing economy
Download This Article
Elias Kaunda, Theuns Pelser

This work is licensed under a Creative Commons Attribution 4.0 International License.
Abstract
Corporate scandals that have rocked the world in the past two decades have heightened the importance of corporate governance (Zalewska, 2014). Despite the interest in the adoption of corporate governance state-owned enterprises (SOEs), the performance of these organisations remains poor (Vagliasindi, 2008), which has been attributed to ineffective corporate governance (World Bank, 2007). The objective of this study was to develop a strategic corporate governance enterprise in the developing economy. The study followed a critical realism approach. As a result, a multi-methodology and mixed design were employed. The sample included all SOEs registered in Malawi, which had operated from 2000–2016 but excluded regulatory, financial, and academic institutions. Data collection followed the critical realism case study method. Findings reveal that large power distance, cronyism, and materialistic cultures are entrenched in society and negatively impact corporate governance. Results further show that increased shareholders' power and multiple principals have a negative effect on performance. The study recommended changes to legal form, board operations, and disclosure to improve corporate governance effectiveness. The study has contributed to a body of knowledge in terms of developing a strategic governance framework for SOEs in Malawi. The study has also established that cultural values influence the effectiveness of corporate governance.
Keywords: Strategic Corporate Governance, Framework of SOEs, State-Owned Enterprises, Company Performance, Socio-Cultural Values, Malawi
Authors' individual contribution: Conceptualization — E.K.; Methodology — E.K.; Investigation — E.K.; Resources — T.P.; Writing — Original Draft — E.K. and T.P.; Writing — Review & Editing — E.K. and T.P.; Supervision — T.P.; Project Administration — T.P.
Declaration of conflicting interests: The Authors declare that there is no conflict of interest.
JEL Classification: G34, M140, Z1
Received: 08.10.2021
Accepted: 13.05.2022
Published online: 16.05.2022
How to cite this paper: Kaunda, E., & Pelser, T. (2022). A strategic corporate governance framework for state-owned enterprises in the developing economy [Special issue]. Journal of Governance & Regulation, 11(2), 257–276. https://doi.org/10.22495/jgrv11i2siart5