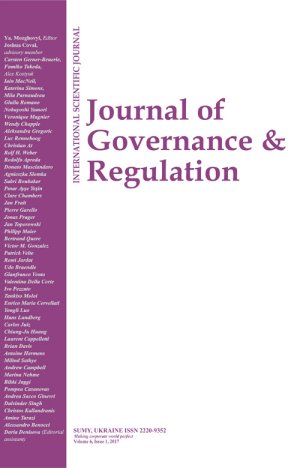 A study of the banks' efficiency in crisis: Empirical evidence from Eastern Europe, Balkans and Turkey
Download This Article
Christos Lemonakis
, Alexandros Garefalakis
, Georgios Xanthos, Hara Haritaki

This work is licensed under a Creative Commons Attribution-NonCommercial 4.0 International License.
Abstract
This study focuses on the efficiency measures of banking institutions from sixteen Eastern European countries, the Balkans and Turkey. Authors use a two-step approach to study the efficiency of banks at the regional level during the critical period 2007-2011. First, the study examines whether banks are actively operating differently at a regional level during the under-review period to focus on the development of the crisis. Secondly, authors use the performance measure (Technical Efficiency -TM) that was obtained from the analysis using basic banking accounting characteristics such as capital ratios, assets quality, leverage, liquidity, and operations financial ratio as independent variables. Authors also use Global Governance Indicators to describe the ability of the respective governments to formulate effectively and properly policies related to Political Stability and the Rule of Law.
Their results suggest that bank accountant and managers of all regions should focus upon profit efficiency, proper capitalization, in order to increase their banks' profitability. In all regions, there is a need for a benchmark in lowering Banks' operating expenses, in order for them to become more efficient. Finally, credit expansion in Eastern Europe and Balkans countries needs to be under a cautious umbrella in order banks should take the momentum for reaching their more efficient operational levels.
Keywords: Banks, Technical Efficiency, DEA Analysis, Financial Crisis, Accounting Characteristics.
JEL Classification: M4, G3, G2
Received: 12.04.2018
Accepted: 22.07.2018
Published online: 10.08.2018
How to cite this paper: Lemonakis, C., Garefalakis, A., Georgios, X., & Haritaki, H. (2018). A study of the banks' efficiency in crisis: Empirical evidence from Eastern Europe, Balkans and Turkey. Journal of Governance & Regulation, 7(3), 8-12. https://doi.org/10.22495/jgr_v7_i3_p1