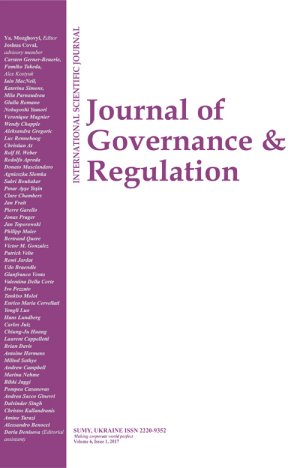 Barriers of implementing the balanced scorecard: Evidence from the banking sector in the developing market
Download This Article
Yousif Abdelbagi Abdalla
, Abdelrahman Mohamed Ibrahim
, Alhashmi Aboubaker Lasyoud
, Mohammed Hersi Warsame

This work is licensed under a Creative Commons Attribution 4.0 International License.
Abstract
The purpose of this study is to identify and understand the barriers to the balanced scorecard (BSC) implementation in the Sudanese banking sector. To achieve the research objective a qualitative approach is used. The research data were gathered by conducting 12 semi-structured interviews with the managers and senior staff of 10 banks working in Sudan. The findings of this research demonstrated that the major barriers of the BSC implementation in the Sudanese banking sector are as follows: absence of top management motivation and commitment, lack of awareness, lack of training, the high cost of the BSC implementation, the claim of current system sufficiency, difficulties in measuring BSC perspectives, and insufficient IT support. The findings suggest that the top management of the banking sector should be encouraged by the Central Bank of Sudan to consider using the BSC as a priority and include it within their strategic plans, initiate budgets and other resources for better BSC implementation (Gowindasamy & Jantan, 2018). This study contributes to the literature and practice in the field of management accounting by outlining the barriers to implementing the BSC in the banking sector located in a developing African country. The information obtained can enhance our understanding of BSC implantation in emerging economies.
Keywords: Balanced Scorecard, BSC, Barriers, Banks, Sudan
Authors' individual contribution: Conceptualization — Y.A.A. and A.M.I.; Methodology — Y.A.A. and A.A.L.; Investigation — Y.A.A. and M.H.W.; Formal Analysis — Y.A.A., A.M.I., A.A.L., and M.H.W.; Writing — Original Draft — Y.A.A. and A.M.I.; Writing — Review & Editing — Y.A.A., A.M.I., A.A.L., and M.H.W.; Supervision — Y.A.A. and A.M.I.
Declaration of conflicting interests: The Authors declare that there is no conflict of interest.
Acknowledgements: We would like to thank our students (Hana, Israa, Nada, Reem, and Roaa) from the School of Management Studies, University of Khartoum, for the appreciated help in the initial work of this study. Our thanks are also extended to the reviewers and participants of the International Conference on Business, Big-Data, and Decision Sciences (ICBBD), Tokyo University of Science, Japan, August 22–24, 2019.
JEL Classification: M40, M41, M48
Received: 01.12.2021
Accepted: 19.04.2022
Published online: 22.04.2022
How to cite this paper: Abdalla, Y. A., Ibrahim, A. M., Lasyoud, A. A., & Warsame, M. H. (2022). Barriers of implementing the balanced scorecard: Evidence from the banking sector in the developing market. Journal of Governance & Regulation, 11(2), 173–180. https://doi.org/10.22495/jgrv11i2art15