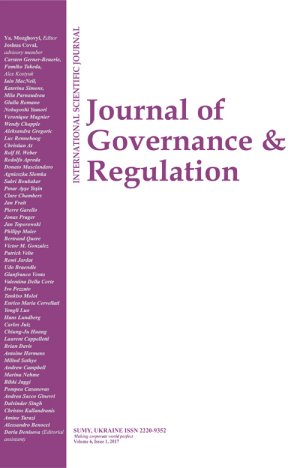 Causality relationship between sustainability factors and water management: The emerging market study
Download This Article
Silas Mukwarami
, Michael Bamidele Fakoya

This work is licensed under a Creative Commons Attribution 4.0 International License.
Abstract
This paper evaluates the causality relationship between sustainability factors and water management in the South African public sector. The quest to partake in this research is motivated by the need for addressing the prevailing water services delivery challenges (WSDCs) and infrastructure funding deficit challenges (Ruiters, 2013). Given the severity of WSDCs in South Africa, the question which needs redress is whether sustainability factors influence water management and vice versa. Therefore, the main objective of this paper is to explore a unique approach to addressing WSDCs by investigating the bidirectional relationship between sustainability factors and water management. Data spanning 2009–2019 on sustainability factors and water management was collected using quantitative content analysis from web-based sources of purposively selected eight metropolitan municipalities in South Africa. Using Granger non-causality tests, social and environmental management practices have had a bidirectional relationship with water management. Besides, causality analysis involving corporate governance and economic measures failed to produce outright opposite direction connections. The results suggest that stakeholders and policymakers should acknowledge the role of sustainability factors in addressing investment challenges confronting the water sector. Therefore, the study recommends further research into establishing the significance and direction of the relationship between sustainability factors and water management.
Keywords: Investments, Governance, Water, Sustainability, Environment
Authors' individual contribution: Conceptualization — S.M. and M.B.F.; Methodology — S.M.; Investigation — S.M.; Resources — S.M. and M.B.F.; Writing — S.M. and M.B.F.; Supervision — M.B.F.; Funding Acquisition — S.M.
Declaration of conflicting interests: The Authors declare that there is no conflict of interest.
Acknowledgements: We wish to express our gratitude to the Africa Centre for Sustainability Accounting and Management (ACSAM) for making the funds available to cover the publication fees.
JEL Classification: D24, O19, Q25, Q56, F64
Received: 25.09.2021
Accepted: 14.04.2022
Published online: 18.04.2022
How to cite this paper: Mukwarami, S., & Fakoya, M. B. (2022). Causality relationship between sustainability factors and water management: The emerging market study. Journal of Governance & Regulation, 11(2), 144–158. https://doi.org/10.22495/jgrv11i2art13