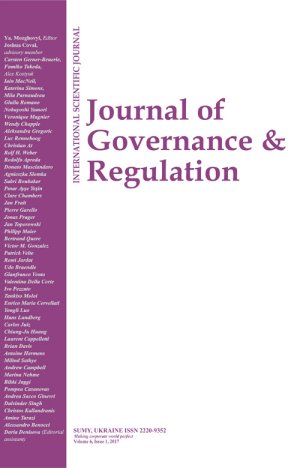 Corporate governance challenges: In the context of MENA countries
Download This Article

This work is licensed under a Creative Commons Attribution 4.0 International License.
Abstract
Strong corporate governance is vital for countries in the Middle East and North Africa (MENA) as they strive to increase economic growth and reinforce competitiveness and create prosperous societies. This paper evaluates the corporate governance landscape by identifying Development Economic and policy challenges in the MENA countries. In addition, it discovers the role of MENA markets and OECD in improving corporate governance. The current study found that corporate governance is still in the early stages in MENA region and it recommends that there is a need for future research to develop corporate governance model in the unique economic and social environment in the MENA countries. The contribution of this research is significant, not only for the MENA region, but also for application to other emerging markets. In this study, clear insights are provided for policymakers, regulators, managers, investors and researchers involved in emerging markets.
Keywords: Corporate Governance, Emerging Markets, Middle East and North Africa, OECD
Authors' individual contribution: The author is responsible for all the contributions to the paper according to CRediT (Contributor Roles Taxonomy) standards.
JEL Classification: G3, G30, G4
Received: 02.06.2019
Accepted: 06.12.2019
Published online: 09.12.2019
How to cite this paper: Otman, K. (2019). Corporate governance challenges: In the context of MENA countries. Journal of Governance & Regulation, 8(4), 35-45.
https://doi.org/10.22495/jgrv8i4art3