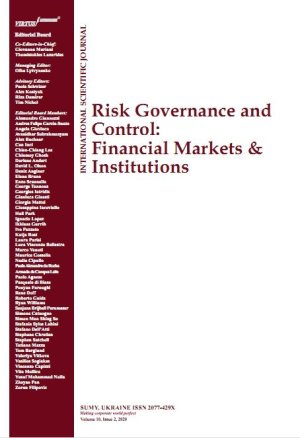 Credit intermediaries' regulation and profitability: The Italian case of D.Lgs. No. 141/2010
Download This Article

This work is licensed under a Creative Commons Attribution 4.0 International License.
Abstract
This work studies the effect of Italian regulation D.Lgs. No. 141/2010 (Law 141), introduced to transpose Directive 2008/48/EC of the European Parliament into the performance of credit intermediaries. Law 141's entry into force provides an opportunity to study the effect of greater market entry barriers on sector profitability. The Italian case is particularly significant because it is characterized by strict application of the directive, a low level of financial literacy, and a distribution model that, for some kinds of personal loans, allows agents and brokers a significant role (Canales & Nanda, 2012). We study a panel of Italian agents and credit brokers, using a panel and difference-in-differences regression. The results show that, from 2009 to 2017, firm profitability was driven not by the increase in market entry requirements introduced by Law 141 but, rather, by firms' size, efficiency, and business model.
Keywords: Agent, Credit Broker, Competition, Barriers
Authors' individual contribution: Conceptualization – N.B., U.F., and X.S.; Methodology – N.B., U.F., and X.S.; Software – N.B.; Validation – N.B. and U.F.; Formal Analysis – N.B.; Resources – U.F. and X.S.; Data Curation – N.B. and X.S.; Writing – Original Draft – N.B. and X.S.; Writing – Review & Editing – N.B., U.F., and X.S.; Visualization – N.B.; Supervision – U.F.; Project Administration – U.F.; Funding Acquisition – U.F.
Declaration of conflicting interests: The Authors declare that there is no conflict of interest.
Acknowledgements: We thank John Manley, Jay Kang, Pavel Štrach, Carlos Trejo-Pech, Fadi Fawaz, Peter Cincinelli, Giovanna Zanotti, and the participants of the 19th International Business and Economic Conference for their comments.
JEL Classification: G2, L8, M2
Received: 23.05.2020
Accepted: 06.07.2020
Published online: 10.07.2020
How to cite this paper: Bianchi, N., Filotto, U., & Scimone, X. (2020). Credit intermediaries' regulation and profitability: The Italian case of D.Lgs. No. 141/2010. Risk Governance and Control: Financial Markets & Institutions, 10(2), 71-78. http://doi.org/10.22495/rgcv10i2p6