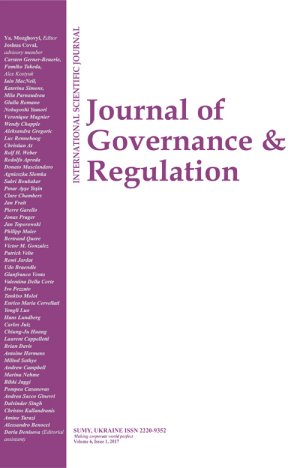 Financial development measurement: Comparison of the high- and low-income countries
Download This Article
Pranvera Dalloshi

This work is licensed under a Creative Commons Attribution 4.0 International License.
Abstract
The literature that treats financial sector development and its impact on various economic phenomena does not recognise a single indicator of financial development measurement, nor do the various regulators of the financial sector have a single indicator to measure its development. Divergencies in financial development proxies used have prompted the International Monetary Fund (IMF) staff to create an indicator that includes all aspects of financial sector development (Čihák, Demirgüç-Kunt, Feyen, & Levine, 2012). The purpose of this paper is to show the main indicators of the financial development measurement and the gap between high- and low-income countries' financial systems using the financial development index (FD index) developed by the IMF. This paper introduces the financial development indicator and uses it to compare different income group countries. The results show differences in the levels of financial development across countries. We also notice an improvement of the overall financial system in all of the groups of countries, showing an increasing trend in the last 10 years compared to the previous 10 years, but the desperate fact is that low-income countries have a long way to go to reach the level of financial development of high-income countries.
Keywords: Financial Development, Financial Indicators, High- and Low-Income Countries
Authors' individual contribution: The Author is responsible for all the contributions to the paper according to CRediT (Contributor Roles Taxonomy) standards.
Declaration of conflicting interests: The Author declares that there is no conflict of interest.
JEL Classification: G1, G2, P24
Received: 18.10.2021
Accepted: 29.03.2022
Published online: 31.03.2022
How to cite this paper: Dalloshi, P. (2022). Financial development measurement: Comparison of the high- and low-income countries. Journal of Governance & Regulation, 11(2), 41–49. https://doi.org/10.22495/jgrv11i2art4