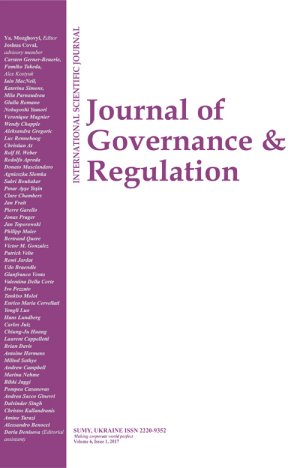 Fraud risk judgment measurement scale development
Download This Article
Lufti Julian
, Razana Juhaida Johari
, Jamaliah Said
, Ludovicus Sensi Wondabio

This work is licensed under a Creative Commons Attribution 4.0 International License.
Abstract
Recently, many financial scandals and frauds have been published in mass media. It has resulted in ruining the public trust in the internal auditor profession as the third line of defense since the public perceived frauds detection and prevention as the internal auditors' responsibility (DeZoort & Harrison, 2018). The internal auditors' fraud risk judgment performance has been questioned. There are many scales to measure fraud risk judgment; however, they are mostly related to financial-statement-related frauds with external auditors as the targeted respondents and still lack those to measure fraud risk judgment of internal auditors. This paper aims to propose the scale for measuring the performance of internal auditors' fraud risk judgment. Since there are many internal auditors without accounting background, the fraud case should be developed to be more general, instead of financial-statement-related frauds. The study followed the best practice step by step in developing a scale proposed by Boateng, Neilands, Frongillo, Melgar-Quiñonez, and Young (2018). It involved 5 experts in developing and validating the items, 106 respondents in the exploratory factor analysis (EFA) and 202 respondents in the confirmatory factor analysis (CFA). All the required indicators in the steps were acceptable; therefore, we can conclude that the scale is valid and reliable. The scale was developed based on the fraud triangle theory; hopefully, it can contribute to providing alternative fraud risk judgment measurement for internal auditors.
Keywords: Internal Auditing, Fraud Risk Judgment, Scale Development, Fraud Triangle, Exploratory Factor Analysis, Confirmatory Factor Analysis
Authors' individual contribution: Conceptualization — L.J.; Methodology — L.J. and R.J.J.; Resources— L.J. and L.S.W.; Formal Analysis — L.J. and R.J.J.; Writing — Original Draft — L.J. and J.S.; Writing — Review & Editing — L.J. and R.J.J.; Supervision — R.J.J. and L.S.W.; Project Administration — J.S.
Declaration of conflicting interests: The Authors declare that there is no conflict of interest.
Acknowledgements: The Authors are grateful to Ministry of Higher Education for HICoE research funding, Accounting Research Institute and Faculty of Accountancy, Universiti Teknologi Mara Shah Alam, Malaysia and Faculty of Economics and Business, Universitas Indonesia, Indonesia, for all supports and resources.
JEL Classification: M42, M14, M48
Received: 28.10.2021
Accepted: 25.02.2022
Published online: 28.02.2022
How to cite this paper: Julian, L., Johari, R. J., Said, J., & Wondabio, L. S. (2022). Fraud risk judgment measurement scale development [Special issue]. Journal of Governance & Regulation, 11(1), 303–311. https://doi.org/10.22495/jgrv11i1siart10