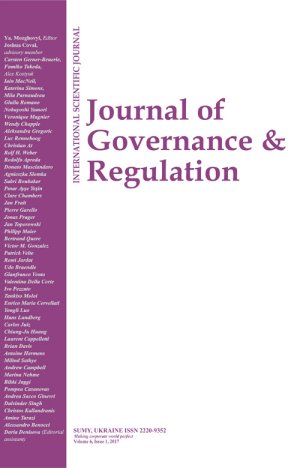 Iceland's financial crisis 2008: Not a normal accident
Download This Article
Murray Bryant, Throstur Olaf Sigurjonsson

This work is licensed under a Creative Commons Attribution 4.0 International License.
Abstract
The failure of 97% of Iceland's financial system in October 2008, was not solely due to the tight coupling and complexity of the financial system but was the result of bankers and their owners, who took actions that violated system rules and regulations so that complete system failure was inevitable. Regulators were silent during such activities. Actions taken by bankers, and others, have been termed agentic behaviour — willful violation of system rules and regulations in a way that brings the entire system down (Perrow, 2010). This paper demonstrates via a case study that agentic behaviour was facilitated by a set of institutions, actors, Icelanders, and underlying context; which we term enablers. The role of enablers extends the concept of agentic behaviour. Such conduct examines bad behaviour, allows systemic analysis, and points to several factors that extend financial crises beyond Iceland. In a brief period, Iceland went from statism to neoliberalism with profound ill effects on its financial system, its public institutions along with its relationships with other nations.
Keywords: Agentic Behaviour, Enablers, Systemic Failure, Regulation
Authors' individual contribution: Conceptualization — M.B. and T.O.S.; Methodology — M.B.; Validation — T.O.S.; Formal Analysis — M.B.; Investigation — M.B. and T.O.S.; Resources — T.O.S.; Writing — Original Draft — M.B.; Writing — Review & Editing — M.B. and T.O.S.; Visualization — T.O.S.
Declaration of conflicting interests: The Authors declare that there is no conflict of interest.
JEL Classification: M480, H1, M14, G30
Received: 08.07.2022
Accepted: 14.12.2022
Published online: 16.12.2022
How to cite this paper: Bryant, M., & Sigurjonsson, T. O. (2022). Iceland's financial crisis 2008: Not a normal accident [Special issue]. Journal of Governance & Regulation, 11(4), 354–364. https://doi.org/10.22495/jgrv11i4siart16