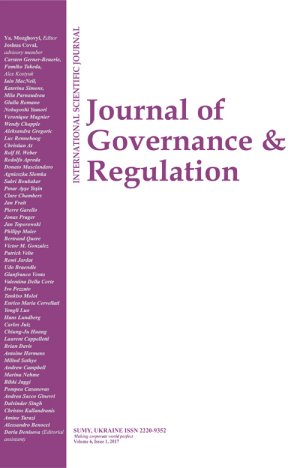 Managerial ownership and executive compensations: Interaction and impact on earnings management practices in an emerging economy
Download This Article
Jamal Abu-Serdaneh
, Anas Ghazalat

This work is licensed under a Creative Commons Attribution 4.0 International License.
Abstract
The study aimed to examine the relationship between executive compensations and earnings management. Also, it investigates whether managerial ownership influences that relation for the non-financial firms listed in Amman Stock Exchange (ASE) during the period 2010–2019. The study provides evidence that firms with a higher level of executive compensations are associated with a low level of earnings management practices. Results also show that the mitigating role of executive compensations is moderated in firms with managerial ownership, and executive compensations level in firms with managerial ownership is unlikely to be effective. In an attempt to maximize the personal interest, managers with sufficient ownership managed earnings in an opportunistic way to exploit the minority interest through taking advantage of the compensations contracts loopholes.
Keywords: Earnings Management, Discretionary Accruals, Executive Compensations, Managerial Ownership, Amman Stock Exchange
Authors' individual contribution: Conceptualization — A.G.; Methodology — A.G.; Software — A.G.; Validation — J.A.-S.; Formal Analysis — A.G.; Investigation — A.G.; Resources — J.A.-S.; Data Curation — J.A.-S.; Writing — Original Draft — A.G.; Writing — Review & Editing — J.A.-S.; Visualization — A.G.; Supervision — J.A.-S.; Project Administration — A.G.; Funding Acquisition — J.A.-S.
Declaration of conflicting interests: The Authors declare that there is no conflict of interest.
JEL Classification: G3, G32, M41, J33, M12
Received: 28.09.2021
Accepted: 31.01.2022
Published online: 03.02.2022
How to cite this paper: Abu-Serdaneh, J., & Ghazalat, A. (2022). Managerial ownership and executive compensations: Interaction and impact on earnings management practices in an emerging economy. Journal of Governance & Regulation, 11(1), 163–175. https://doi.org/10.22495/jgrv11i1art15