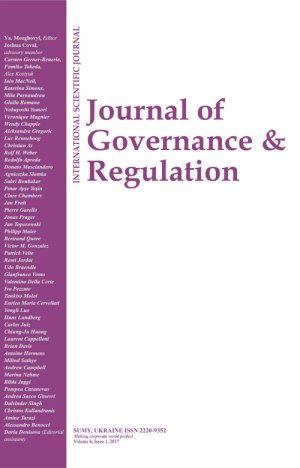 Mediating role of employee green behaviour towards sustainability performance of banks
Download This Article
Malsha K. P. P. H. G. N., Anthonypillai Anton Arulrajah
, Samithamby Senthilnathan
DOI:10.22495/jgrv9i2art7

This work is licensed under a Creative Commons Attribution 4.0 International License.
Abstract
Nowadays, due to the huge deterioration of the environment, not only human beings but also the day-to-day business environment suffers adversely. Hence, the "Go Green" behaviour becomes a globally accepted direction of every individual and business. "Go Green" is an earth-friendly living approach and banks play a decisive role in safeguarding the environment to make our livelihood better. As there is an emerging trend to update traditional banking system with green banking strategies in the modern banking system, bank employees are directed to play a vital behavioural role (Norton, Parker, Zacher, & Ashkanasy, 2015) to keep better banking practices, more environmentally friendly, to have bank sustainability performance. Therefore, this study critically examines the relationships between Green banking practices (GBP), Employee green behaviour (EGB), and Sustainability performance of banks (SPB) in the Sri Lankan context. This study specifically examines the mediating role of EGB in the relationship between GBP and SPB. The results confirm the partial mediation role of EGB in the relationship between GBP to SPB. Moreover, both direct and indirect effects of mediation analysis reveal the same direction, significantly. This study becomes vital for understanding the mediating role of EGB, empirically between GBP and SPB.
Keywords: Green Banking Practices, Employee Green Behaviour, Sustainability Performance
Authors' individual contribution: Conceptualization – A.A.A.; Methodology – A.A.A.; Software – A.A.A.; Validation – S.S.; Formal Analysis – A.A.A.; Investigation – M.K.P.P.H.G.N.; Resources – M.K.P.P.H.G.N.; Data curation – A.A.A.; Writing – Original Draft – M.K.P.P.H.G.N.; Writing – Review & Editing – S.S.; Visualization – S.S.; Supervision – A.A.A.; Project administration – S.S.; Funding Acquisition – M.C.
Declaration of conflicting interests: The Authors declare that there is no conflict of interest.
JEL Classification: Q01, Q52, Q56, O3, O32
Received: 18.04.2020
Accepted: 08.06.2020
Published online: 18.06.2020
How to cite this paper: Malsha, K. P. P. H. G. N., Arulrajah, A. A., & Senthilnathan, S. (2020). Mediating role of employee green behaviour towards sustainability performance of banks. Journal of Governance & Regulation, 9(2), 92-102. https://doi.org/10.22495/jgrv9i2art7