New issue of the Corporate & Business Strategy Review journal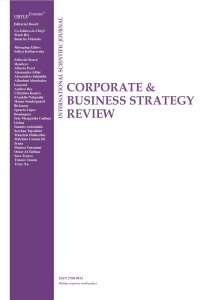 The editorial team of Virtus Interpress is delighted to release a new issue of the journal Corporate and Business Strategy Review.
The papers presented in this issue focus on a lot of relevant issues, such as corporate governance, financial performance, Islamic banking, commercial banks, bank profitability, economic growth, currency rates, asymmetric effects, small and medium-sized enterprises, accounting practices, accounting information system, financial literacy, investor's behavior, dividend policy, share price volatility, consumer price index, fintech, digital financial technology, blockchain technology, cryptocurrency, digital asset investment, digital technology, CEO's skills, successful strategy execution, intellectual capital, employee alignment, entrepreneurship, entrepreneurial intention, decision-making, profitability, internationalization, life insurance, market competition, consumer behavior, marketing, etc.
The full issue of the journal is available at the following link .
The first paper by Selbije Memeti Karemani and Era Memeti analyses consumer behavior, as well as the economic, social, cultural, and psychological influences on consumers when choosing and purchasing special products.
Akhmad Faozan, Toufan Aldian Syah, Hadri Kusuma, and Wiwiek Rabiatul Adawiyah investigate the impact of intellectual capital on the financial performance of Sharia banking in Indonesia and assess the role of good corporate governance in enhancing the connection between intellectual capital and financial performance.
David Umoru, Solomon Edem Effiong, Salisu Shehu Umar, Malachy Ashywel Ugbaka, Danjuma Iyaji, Enyinna Okpara, Davidson Iyayi, Anna Nuhu Tizhe, and Hussein Oseni Omomoh employed generalized autoregressive conditional heteroskedasticity (GARCH) asymmetric models to estimate and forecast exchange rate dynamics in developing countries.
Manassanun Doungpitak, Thoedsak Chomtohsuwan, Tanpat Kraiwanit, Kris Jangjarat, and Veraphong Chutipat attempt to explore the elements that influence Thai citizens' digital technology proficiency.
Suliyanto, Refius Pradipta Setyanto, and Daffa Redika Fauzi examine the effect of destination image, destination attractiveness, and experiential tourism, on intention to revisit by placing tourist satisfaction as a mediating variable.
Mazurina Mohd Ali, Erlane K. Ghani, Kamaruzzaman Muhammad, and Rindang Widuri shed light on different types of accounting services, the motivations to purchase the services, expectations regarding the quality of accounting services offered by accounting service practices, and the factors that influence the quality of accounting services.
Yusriyati Nur Farida, Chechen Abdul Matin, Eko Suyono, Irianing Suparlinah, and Adi Wiratno study the impact of financial literacy, locus of control, and technological advancement on the investment behavior of young investors when making decisions.
Bashar Abu Khalaf, Antoine B. Awad, and Saman Sarfraz Ahmed evaluate the impact of dividend policies on share price volatility, focusing on non-financial companies of Gulf Cooperation Council countries that were listed between 2010 and 2021.
Muharrem Bunjaku, Roberta Bajrami, and Gezim Jusufi use the autoregressive integrated moving average (ARIMA) model to forecast the monthly consumer price index in Kosovo.
Hayder Jerri Mohsin, Laith Yousef Bani Hani, Anas Ahmad Bani Atta, Noor Aldeen Kassem Al-Alawnh, Ahmad Bani Ahmad, and Husni Hasan Samara aim to highlight digital financial technology, which has become the focus of attention for all economic and banking institutions in general.
Alexandros G. Sahinidis, Panagiota I. Xanthopoulou, Evangelos E. Vassiliou, and Panagiotis A. Tsaknis focus on the impact of dark personality traits on entrepreneurial intention, within the context of the theory of planned behaviour.
Dewi Susilowati, Eko Suyono, Oman Rusmana, Adi Wiratno, and Christina Tri Setyorini seek to maximize the potential of batik SMEs by implementing both manual and computerized accounting information systems and to provide solutions to the problems posed by the lack of managerial professionalism in batik SMEs in Indonesia.
Williams Omokhudu Odiwo, Peter Eshioke Egielewa, Abdulkarim Praise Sanni, Patience Ajirioghene Erigbe, Atairet Clifford Atairet, Anthonia Ighiebemhe Otsupius, Ehis Taiwo Omoluabi, Godwin Ohioka, and Howardson Ayemenre Odion outline the networking's impact on Nigerian communication enterprises, focusing on Globacom Nigeria Limited.
Veraphong Chutipat, Rattapol Kasemrat, Tanpat Kraiwanit, and Itsaree Phaksipaeng approach to identify the determinants of Thai investors' platform selection decisions for cryptocurrency trading.
Ahmad Nasser Abuzaid presents the relationship between CEOs' skills and successful strategy execution and the mediating effect of employee alignment on this relationship.
Pham Thi Bich Thu and Le Thi Binh aim to measure the influence of marketing mix, brand awareness, and perceived quality on brand equity for accounting services in Thanh Hoa province, Vietnam.
Arburim Shabani and Medain Hashani aim to find the main factor which impacts individuals in Kosovo in the decision to purchase a life insurance policy.
Finally, Tafirei Mashamba, Rabson Magweva, and Shenaaz Gani explain the contribution of banks' performance to economic growth in Sub-Saharan Africa by examining the impact of bank profitability on growth, as well as the mediating role of stability in this interplay.
We hope that you find this issue of the journal useful and that it is both informative and educational!