New issue of the Corporate Governance and Sustainability Review journal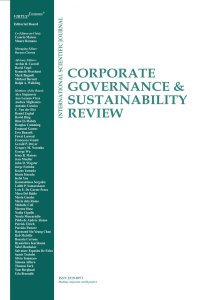 The editorial team of Virtus Interpress is glad to present the second issue (Volume 5, Issue 2) of the journal "Corporate Governance and Sustainability Review" in 2021. The papers published in this issue cover the topics such as corporate governance, governance mechanism, board of directors, board characteristics, Islamic banks, environmental disclosure, corporate social responsibility, corporate reporting, voluntary disclosure, legitimacy theory, GHG emissions, legal audit, managerial latitude, dividend policy, regional government, research and development policy, poisson distribution, sustainability, SDGs, stakeholder engagement, emotion sustainability, sustainable partners, European hedge funds, inflow and outflow restrictions, performance, asset illiquidity, fund flows, etc.
Jamel Chouaibi, Yamina Chouaibi, and Noomen Chaabane start the second issue. In their research, the authors investigate the expected impact of corporate governance mechanisms on the level of environmental disclosure among a selected sample of Islamic banks in the Middle East and North Africa (MENA) region.
The second study by Vincent Gagné and Sylvie Berthelot explores the determinants of Greenhouse Gas (GHG) emissions disclosure, including the influence of the existence of an environmental committee in the Canadian context.
In the next paper, Hamza El Kaddouri and Modar Ajeeb examine management teams' perceptions of the role of legal audit in the governance system of French universities and its impact on the managerial latitude of university managers.
The research by D. M. K. T. Dissanayake and D. B. P. H. Dissabandara analyses the nature and level of the relationship between board characteristics and dividend policy.
Tien-Chin Wang and Bi-Chao Lee in their study raise the question of whether community security is the key to sustainable governance.
In another paper, Ahmed M. Abdel-Meguid, Khaled M. Dahawy, and Nermeen F. Shehata provide a piece of empirical evidence that examines the extent to which macro-level foundations, including corporate governance regulations, influence sustainable development goals (SDGs) in Egypt.
Shirley Mo Ching Yeung explores in this issue the key elements of emotion sustainability (ES) and sustainable partnership (SP) post-COVID-19.
One more study by Soumaya Ben Khelifa proposes new approaches to investigate the effect of share restrictions on European hedge fund performance and liquidity.
The issue ends with a book review titled "Board of directors: A review of practices and empirical research" by Udo C. Braendle, where the author focuses on the main challenges that are associated with board diversity and sustainability issues.
The full issue of the journal is available at the following link.
We wish you pleasant and informative reading!