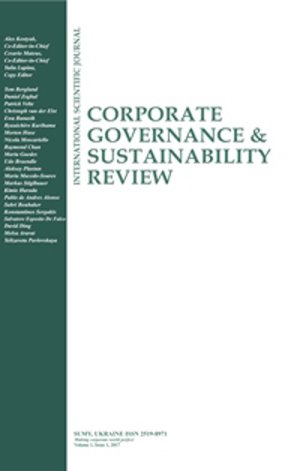 The evolution of corporate reporting on GHG emissions: A Canadian portrait
Download This Article
Vincent Gagné
, Sylvie Berthelot

This work is licensed under a Creative Commons Attribution 4.0 International License.
Abstract
This paper examines the evolution of the extent to which firms with a high greenhouse gases (GHG) emission impact complied with Chartered Professional Accountants (CPA) Canada guidelines on climate change disclosures, as well as the factors that influenced these disclosures. The sample is comprised of Canadian firms in the mining, energy, and chemical sectors. The study measures the influence of the firms' political exposure and media visibility, their audit firm, the presence of an environment committee, their ownership structure, and their financial performance on their GHG emissions disclosures. Our findings show that these disclosures considerably evolved over the 10 year period from 2007 to 2017 and that this evolution was in the form of a leap rather than a slow and steady learning curve. We also confirmed the significant influence of the environment committee, political exposure, and media visibility on this evolution. Our empirical results corroborate the work of DiMaggio and Powell (1983), outlining the important role normative pressures play in voluntary GHG emissions disclosure firms make in order to secure the legitimacy conferred by society (Suchman, 1995).
Keywords: Corporate Social Responsibility, Corporate Governance, Corporate Reporting, Voluntary Disclosure, Legitimacy Theory, GHG Emissions
Authors' individual contribution: Conceptualization — V.G. and S.B.; Methodology — V.G.; Formal Analysis — V.G.; Resources — V.G.; Writing — Original Draft — V.G. and S.B.; Writing — Review & Editing — V.G. and S.B.; Supervision — V.G.
Declaration of conflicting interests: The Authors declare that there is no conflict of interest.
Acknowledgements: The authors would like to thank Francis Hinse-Laniel for his participation in collecting the data.
JEL Classification: G34, M14, M48
Received: 10.02.2021
Accepted: 06.05.2021
Published online: 07.05.2021
How to cite this paper: Gagné, V., & Berthelot, S. (2021). The evolution of corporate reporting on GHG emissions: A Canadian portrait. Corporate Governance and Sustainability Review, 5(2), 22-34. https://doi.org/10.22495/cgsrv5i2p2