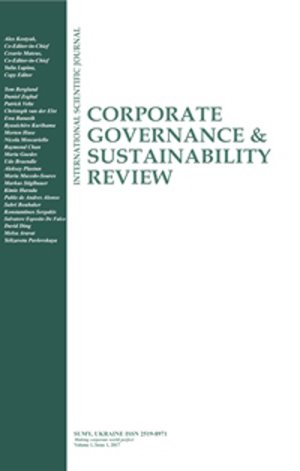 Subscribe online (for individuals)
Please, note, that subscription covers the papers which are not available at open access at the web-site of the Publisher.
With the help of this page it is possible to purchase subscription for the Corporate Governance and Sustainability Review. To subscribe – please contact us at info[at]virtusinterpress.org
You can also subscribe to our journals via our agents.
The up-to-date network of subscription agents is represented by EBSCO (Global), Celdes s.r.l. (Europe), Lily Journal & Book Co. Ltd (Asia), Revistas Técnicas SAS (Latin America), WorldWide Information Services (Africa), Teldan Subscription Services (Global), Otto Harrassowitz GmbH & Co. KG (North America, European countries, Australia and Southeast Asia), Interoptics SA (Greece).
For individual subscribers:
Printed version of the journal - EUR180
Electronic subscription - EUR 130
—
We provide an opportunity to all our subscribers to get a bundle subscription to Virtus Interpress journals. For more information please drop us a message at info[at]virtusinterpress.org
The payment can be made with credit/debit card via secure payment system provided by Ukrainian processing center. During the payment, you will probably receive an SMS from your bank with the password to confirm the transaction. The price in Euro is an oriented one. The payment will be charged in UAH according to the exchange rate of your payment card provider. Once the payment is made we will process it ASAP and our representative will contact you to deliver the service/confirm the payment.