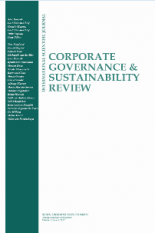 Feedback from stakeholders
Virtus Interpress transparency initiative was launched a couple of years ago. In this section, we provide (and continuously update) feedback from our stakeholders: authors and reviewers. To read feedback from reviewers, please scroll the page down.
Feedback from the authors:
Hashem Iswaissi, PhD Student, Glasgow Caledonian University, UK: "I really appreciate Corporate Governance and Sustainability Review. The Journal is quite professional and efficient in communicating with authors. Communicating with the editorial team is very professional and constructive. The Editors was quick enough to respond to my queries and provide the requested information. I am very proud to work with you and I wish the journal keeps more progress and success".
Munib Badar, PhD, IQRA University, Pakistan: "During the course of my interaction, I got opportunities of both publishing and reviewing what fascinate and depict the high quality of the Journal carries in all aspects obviously emerges from the true leadership. The Editor and his entire team are proactively responsible and lead you the right possible way. Wish them success in their future endeavours!"
Frank Lehrbass, Professor of Business Administration, FOM University of Applied Sciences, Germany: "The Journal provided timely and helpful feedback to my submission. The processing of it went well and desired revisions were processed in due course by Corporate Governance and Sustainability Review".
Shirley Mo-Ching Yeung, Associate Professor, Head of School of Business / Director of Centre for Business/Social Sustainability and Innovations (BSSI), Gratia Christian College, UNPRME Advanced Institute; Associate Vice President of UNESCO HK Association, Hong Kong: "I deeply appreciate the kind efforts of Virtus Intrepress for my book publication (2020) and journal paper publication since 2015. And we co-organised an international conference on corporate governance and sustainable development (2017) in Hong Kong with impacts. Having shared vision and on-going collaborations further strengthen our sustainable relationship to bring insights to our readers and to our journey of wisdom. Furthermore, the themes of published articles in journals reflect the contemporary issues of the business world from economic and social perspectives. I am very proud to be a scholar and member of Virtus Global Center for Corporate Governance".
Hlupeko Dube, Lecturer, Department of Banking and Finance, Great Zimbabwe University, Zimbabwe: "The cooperation was highly appreciated. The editors were able to respond to all my communications without delay. The staff of Virtus Interpress was very helpful in making suggestions".
Kali Charan Sabat, Administrative Staff College of India, Hyderabad, India: "Thanks for giving me this opportunity for sharing the feedback on my experience with Corporate Governance and Sustainability Review. The best thing I liked about the journal is the quick response from the reviewers. The review process looked very transparent and seamless. I am looking forward to many more publications with the journal".
Feedback from the reviewers:
Alessandra Allini, Professor of accounting at University of Naples Federico II, Italy: "The Editor of Corporate Governance and Sustainability is always prompt and kind in his communications and the review process is speedy. The Journal covers a wide range of topics concerning sustainability and corporate governance. My experience of cooperation with this Journal is really good".
Lorenzo Gelmini, Professor, University of Piemonte Orientale, Italy: "Even though it is my first experience of collaboration, I have found a stimulating, rich, precise and organized research environment. In particular, the Editor of the journal has always demonstrated punctuality, attention and rapidity in the organization of the work, in particular when it regards the availability of the papers subject to review and the management of correspondence with authors and reviewers. I find our experience particularly positive and I hope that the journal will be widely disseminated amongst the scientific community".