New issue of the Corporate Governance and Sustainability Review journal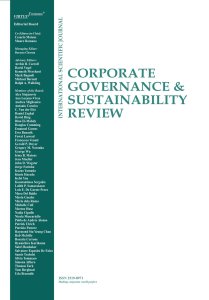 The editorial team of Virtus Interpress is honored to present the fourth issue of the journal "Corporate Governance and Sustainability Review" in 2022. The five papers in this issue are focused on various aspects of sustainability, namely, the corporate social responsibility communication, the impact of corporate governance characteristics on corporate social responsibility disclosure and performance, the relationship between sustainability and firms' financial performance, etc.
The first paper, by Ranjita M. Singh and Philip R. Walsh, examines whether the firms which communicate (on the organizational websites, or annual reports) their corporate social responsibility intentions, sustainable image, and sustainable identity are more likely to report, and at greater levels, on their sustainable activities. By studying 234 corporations comprising the Toronto Stock Exchange's Standard and Poor's-TSX composite index in 2020, the study finds that level of sustainability reporting is linked to core beliefs and long-term aspirations of corporations as reflected in their vision, mission, and values statements.
Klenam Korbla Ledi, Enya Besa Ameza-Xemalordzo, Gilbert Adler Alhassan, and Stephen Bandoma, in the second paper, analyze a sample of firms in Ghana. This study examines the relationship between corporate governance and corporate social responsibility. The study uses a survey method to collect data from 220 top executives of selected firms in Ghana using questionnaires. Results show that more effective corporate governance systems and processes (board monitoring, firm ownership structures, etc.) stimulate corporate social responsibility initiatives and improve the relationship with stakeholders.
In the third paper, Amaka Elizabeth Agbata, Priscilla Uche Egolum, Anthonia Chioma Offia, and Nonso John Okoye through a systematic analysis of studies published between 2013 and 2022 concerning Nigeria, highlight a significant relationship between corporate governance characteristics and environmental sustainability. The researchers conclude that good corporate governance practices improve firm sustainability in Nigeria. The findings enriched accounting literature and gave the situation of corporate governance and firm sustainability in Nigeria at a glance that has not been established.
Sara Willox and Jennifer Morin, in the next paper, verify that human service organizations adopting process mapping and systems approach for their transportation achieve, at the same time, economic (reduction of financial costs) and environmental benefits (decrease of greenhouse gas emissions). The study is relevant because it provides indications to improve competitiveness of small firms and non-profit organizations and to enable them to offer good services to their clients.
The final paper, by Abiodun Sherifat Isiaka, examines the trend of voluntary sustainability reporting in Africa and the relationship between sustainability disclosures and firms' financial performance. It shows the results of a cross-country study conducted on 32 companies located in Botswana, Cote d'Ivoire, Cape Verde, Egypt, Kenya, Mauritius, Morocco, Nigeria, Uganda, and Zimbabwe. The author examines, on the one hand, the extent of sustainability disclosures and, on the other hand, the relationship between sustainability disclosures and firms' financial performance.
The full issue of the journal is available at the following link.
We wish you pleasant and informative reading!