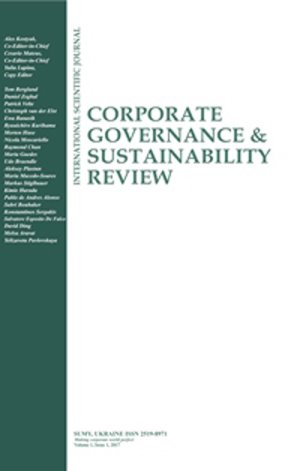 Corporate governance and firm sustainability in the emerging economy: A literature review
Amaka Elizabeth Agbata
, Priscilla Uche Egolum
, Anthonia Chioma Offia
, Nonso John Okoye
Abstract
Firm sustainability has gained popularity recently because businesses have seen the need for the creation of long-term sustainable values. Good corporate governance practices have been the pathway for companies in achieving social sustainability, environmental sustainability, and financial sustainability (Proshare, 2021a). Corporate governance and firm sustainability have been widely studied but in separate ways such as corporate governance and financial sustainability, corporate governance and environmental sustainability as well as corporate governance and social sustainability (Abolo, 2020). This study, therefore, aggregated these three components into their main fold, i.e., firm sustainability, and reviews previous studies to conclude what extant literature has on corporate governance practices and firm sustainability in Nigeria. The review covered a period from 2013 to 2022 and was done using the qualitative analysis method. The finding showed that corporate governance has a significant effect on environmental sustainability, but mixed effects (significant and not significant) on social sustainability and financial sustainability. The other category shows that it has a significant effect on the sustainability of Nigerian firms. The researchers conclude that good corporate governance practices improve firm sustainability in Nigeria. The findings enriched accounting literature and gave the situation of corporate governance and firm sustainability in Nigeria at a glance that has not been established.
Keywords: Corporate Governance, Firm Sustainability, Financial Sustainability, Social Sustainability, Environmental Sustainability
Authors' individual contribution: Conceptualization — A.E.A., P.U.E., A.C.O., and N.J.O.; Writing — Original Draft — A.E.A. and A.C.O.; Writing — Review & Editing — A.E.A., P.U.E., and N.J.O.; Visualization — A.E.A. and N.J.O.; Supervision — A.E.A. and A.C.O.
Declaration of conflicting interests: The Authors declare that there is no conflict of interest.
JEL Classification: G30, M41, Q01
Received: 23.03.2022
Accepted: 16.01.2023
Published online: 18.01.2023
How to cite this paper: Agbata, A. E., Egolum, P. U., Offia, A. C., & Okoye, N. J. (2022). Corporate governance and firm sustainability in the emerging economy: A literature review. Corporate Governance and Sustainability Review, 6(4), 33–43. https://doi.org/10.22495/cgsrv6i4p3

The payment can be made with credit/debit card via secure payment system provided by Ukrainian processing center. During the payment, you will probably receive an SMS from your bank with the password to confirm the transaction. The price in Euro is an oriented one. The payment will be charged in UAH according to the exchange rate of your payment card provider. Once the payment is made we will process it ASAP and our representative will contact you to deliver the service/confirm the payment.