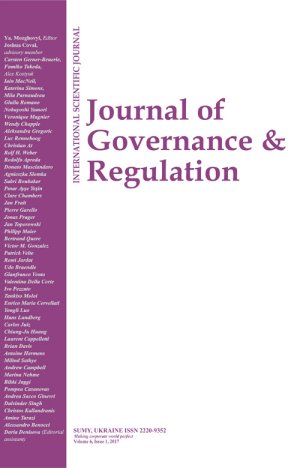 Quality of financial reporting under IFRS and corporate governance influence: Evidence from the Greek banking sector during crisis
Download This Article
Panagiotis Ballas
, Alexandros Garefalakis
, Christos Lemonakis
, Vassiliki Balla

This work is licensed under a Creative Commons Attribution 4.0 International License.
Abstract
The financial system consists, without doubt, one of the most important determinants of the world national economies, which undergoes numerous changes and challenges with major impact on the economic growth prospects of a country. A healthy financial system is the steam engine of the economy, a major source for economic growth through which capitals are attracted for investments; hence, it is regarded as a trustee of financial stability. Given the difference in structure and function of the financial sector in various countries, we investigate the extent to which the implementation of International Financial Reporting Standards (IFRS) accompanied by Corporate Governance practices affected the quality of financial and narrative reporting offered within published statements of Greek banks for the period from 2008 to 2011. The originality of the work lies at the fact that it focuses on Greek financial institutions for a period that incorporates both the burst of global financial crisis and the beginning of the Greek sovereign debt crisis making inferences on quality of reporting as a result of IFRS and Corporate Governance practices adoption. Our analysis revealed the positive contribution of both of the above categories of variables to the accuracy and quality of the information offered to stakeholders.
Keywords: International Financial Reporting Standards, Corporate Governance, Reporting Quality, Banking, Global Financial Crisis
Authors' individual contribution: Conceptualization - P.B., A.G., C.L., and V.B.; Methodology - P.B., A.G., C.L., and V.B.; Data Analysis - P.B., A.G., C.L., and V.B.; Writing-Original Draft - P.B., A.G., C.L., and V.B.; Writing-Review and Editing - P.B., A.G., C.L., and V.B.
JEL Classification: M4, M40, M41, M42, N24
Received: 07.10.2018
Accepted: 18.10.2019
Published online: 21.10.2019
How to cite this paper: Ballas, P., Garefalakis, A., Lemonakis, C., & Balla, V. (2019). Quality of financial reporting under IFRS and corporate governance influence: Evidence from the Greek banking sector during crisis. Journal of Governance & Regulation, 8(4), pp. 8-20.
https://doi.org/10.22495/jgrv8i4art1