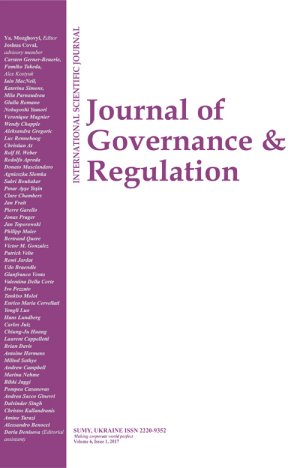 Revenue standard and earnings management during the COVID-19 pandemic: A comparison between IFRS and GAAP
Download This Article
Mohammed M. Yassin
, Osama Samih Shaban
, Dea'a Al-Deen Al-Sraheen
, Khaldoon Ahmad Al Daoud

This work is licensed under a Creative Commons Attribution 4.0 International License.
Abstract
International Financial Reporting Standards 15 — Revenue from Contracts with Customers (IFRS 15) was issued to inhibit the use of revenues for earnings management purposes. During COVID-19, the standard was used to manage earnings (Lopatta, Alexander, Gastone, & Tammen, 2020). This study aims to explain earnings management practices by using a revenue standard. An online questionnaire was distributed by Momentive Inc. (formerly SurveyMonkey Inc.) to accountants working in two different contexts: Jordan as an IFRS country and the USA as a Generally Accepted Accounting Principles (GAAP) country. A convenience sample of 304 questionnaires from both countries was valid for analysis. The findings of ordinary least square (OLS) regression suggest that, during COVID-19, both users used the revenue standard as a tool to manage earnings. In addition, IFRS users were more conservative than GAAP users in terms of existing contracts, while both of them were the same in terms of future contracts. The results should help policymakers and regulators to rethink the flexibility given to managers in dealing with revenue contracts. In addition, they should help managers efficiently manage the revenue contracts.
Keywords: IFRS 15, IAS 18, ASC 606, Revenue from Contracts with Customers, COVID-19, Earnings Management
Authors' individual contribution: Conceptualization — M.M.Y.; Methodology — M.M.Y.; Formal Analysis — M.M.Y.; Resources — D.A.-D.A.-S. and K.A.A.D.; Writing — Original Draft — M.M.Y., O.S.S., D.A.-D.A.-S., and K.A.A.D.; Writing — Review & Editing — M.M.Y., O.S.S., D.A.-D.A.-S., and K.A.A.D.; Funding Acquisition — M.M.Y. and O.S.S.
Declaration of conflicting interests: The Authors declare that there is no conflict of interest.
Acknowledgements: This work was supported and funded by Al Zaytoonah University of Jordan [Scientific research project No. 25/11/2020–2021].
JEL Classification: G34, M41, O57
Received: 28.11.2021
Accepted: 04.04.2022
Published online: 06.04.2022
How to cite this paper: Yassin, M. M., Shaban, O. S., Al-Sraheen, D.A.-D., & Al Daoud, K. A. (2022). Revenue standard and earnings management during the COVID-19 pandemic: A comparison between IFRS and GAAP. Journal of Governance & Regulation, 11(2), 80–93. https://doi.org/10.22495/jgrv11i2art7