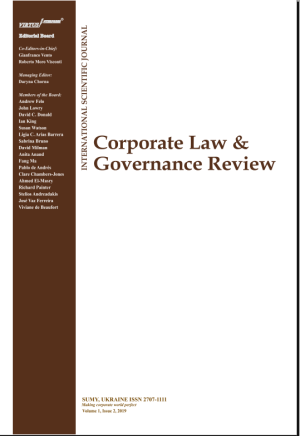 THE BOARD OF DIRECTORS AND COMPANY PERFORMANCE IN EMERGING MARKETS
Abstract
This study investigates the board directors and their effect on company performance in emerging markets, particularly in the United Arab Emirates (UAE). Our findings robustly confirm that the UAE has adopted a board structure similar to that of Western countries. The results indicate the positive effects of leadership structure, board composition and audit committee independence on company performance. This is the first study to demonstrate that board structure is an important determinant in reducing agency problems and leading to improved company performance in unique ownership structures in emerging markets, such as exist in the UAE. It is also the first study to explore the board structure-firm performance relationship using a system-generalised method of moment's estimator for the UAE market. The regulatory and policy implications suggested in this research are significant, not only for the UAE but also for application to other emerging markets. In this context, clear insights are provided for policymakers, regulators, managers, investors, and researchers involved in emerging markets.
Keywords: The Board Directors, Emerging Markets, UAE, Firm Performance
Authors' individual contribution: The author is responsible for all the contributions to the paper according to CRediT (Contributor Roles Taxonomy) standards.
Received: 02.07.2019
Accepted: 15.10.2019
Published online: 16.10.2019
JEL Classification: G3, G4
How to cite this paper: Otman, K. (2019). The board of directors and company performance in emerging markets. Corporate Law & Governance Review, 1(2), 62-73. https://doi.org/10.22495/clgrv1i2p6

The payment can be made with credit/debit card via secure payment system provided by Ukrainian processing center. During the payment, you will probably receive an SMS from your bank with the password to confirm the transaction. The price in Euro is an oriented one. The payment will be charged in UAH according to the exchange rate of your payment card provider. Once the payment is made we will process it ASAP and our representative will contact you to deliver the service/confirm the payment.