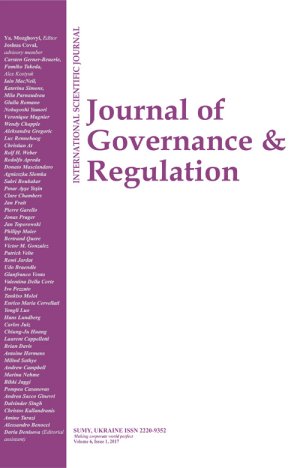 TOWARDS REINFORCING OR CONTESTING THE VISION OF THE RULE OF LAW?
Download This Article
Myriam Senn
Abstract
The UN Declaration of 24 September 2012 reaffirming the commitment of Heads of State and Government to the Rule of Law reflects the current uneasiness accompanying the application of just the concept. This paper argues that it is also due to discrepancies in its worldwide understanding and to the rise of non-state, transnational regulatory regimes. Presumably they are not compelled to apply it as such. Thus, a governance issue arises to either reinforce or contest the rule of law**.
Keywords: Regulatory Regime, Rule of Law, Declaration
How to cite this paper: Senn, M. (2015). Towards reinforcing or contesting the vision of the rule of law? Journal of Governance and Regulation, 4(3-1), 183-186. https://doi.org/10.22495/jgr_v4_i3_c1_p8