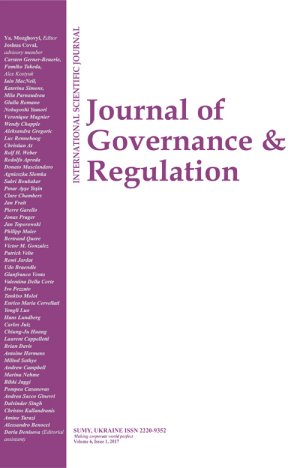 The impact of experience and age of board members on profitability and efficiency: Evidence from state enterprises and parastatals in emerging markets
Download This Article
Gabriel Maibvisira, Hapson Nyasha Muregwi, Emmanuel Mutambara

This work is licensed under a Creative Commons Attribution 4.0 International License.
Abstract
Chiri (2017) described Zimbabwe's state enterprises and parastatals (SEPs) as a burden to the fiscus. The article seeks to determine the effect of board member experience and age on profitability and efficiency of SEPs, respectively, as there has been little research, particularly in emerging markets. A positivist paradigm was adopted using a cross-sectional survey. The target population of the study consisted of all SEPs totalling 107 from which a sample of 20 SEPs was selected from the clusters using the simple random sampling technique. The Likert scale questionnaire was administered to respondents from the line ministry and targeted SEPs. The categorical principal component analysis was used as the main data analysis method. The value from Kaiser–Meyer–Olkin (KMO) and Bartlett's test of sphericity and Cronbach's alpha proved that the data obtained from the sample was adequate and reliable. A simple ANOVA conducted obtained a significance value of 0.000 leading to acceptance of both hypotheses because of p-value (0.000) < 0.001. The article concludes that board experience is a critical determinant of profitability and a positive relationship between the age of board members and SEPs efficiency exists. A policy framework on diversity in experience and age of board members should be enforced. The study is critical since SEPs occupy strategic sectors of the economy yet their contribution to gross domestic product continued to drop (World Bank, 2017).
Keywords: Emerging Markets, Experience of Board Members, Age of Board Members, Profitability, Efficiency, Performance of State Enterprises and Parastatals
Authors' individual contribution: Conceptualization — G.M.; Methodology — H.N.M.; Investigation — G.M.; Data Curation — H.N.M.; Writing — Review & Editing — E.M.; Visualization — G.M.; Funding Acquisition — E.M.
Declaration of conflicting interests: The Authors declare that there is no conflict of interest.
JEL Classification: M19, D73, G34
Received: 28.09.2021
Accepted: 25.01.2022
Published online: 28.01.2022
How to cite this paper: Maibvisira, G., Muregwi, H. N., & Mutambara, E. (2022). The impact of experience and age of board members on profitability and efficiency: Evidence from state enterprises and parastatals in emerging markets. Journal of Governance & Regulation, 11(1), 152–162. https://doi.org/10.22495/jgrv11i1art14