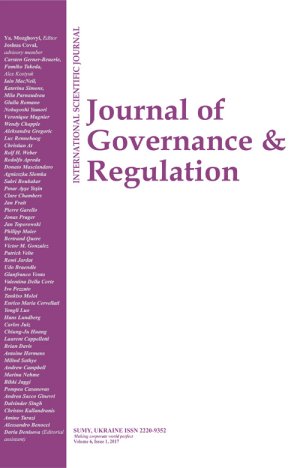 The impact of the corporate governance on firm performance: Evidence from the Greek listed firms
Download This Article
Petros Kalantonis, Sotiria Schoina, Christos Kallandranis

This work is licensed under a Creative Commons Attribution 4.0 International License.
Abstract
This article explores the relationship between board quality and firm performance. The authors investigate any association between corporate governance and firm performance using a sample of listed firms on the Athens Stock Exchange (ATHEX) from 2008 to 2016 and two distinct performance models. This article expands on a previous study by Kalantonis et al. (2021) by including financial performance as assessed by both return on assets (ROA) and Tobin's Q. This investigation provides a global and comprehensive view of how specific aspects of corporate governance (CG) have influenced Greek listed companies during the period 2008–2016. Extending analysis also allows to capture the dynamics of the Greek financial crisis as well as the recent legal institutional framework concerning CG. The authors found that firms with more independent board members performed poorly in terms of ROA, while board size (BS) is positively related to performance in terms of Tobin's Q. Furthermore, a positive relationship was found between CEO duality (CEOD) and firm performance both in terms of ROA and Tobin's Q, and no relationship was found between board gender diversification and firm performance. Finally, it was concluded that the investigated GC aspects affect more the firms' performance than the firms' earnings management.
Keywords: Corporate Governance, Performance, Greek Listed Firms
Authors' individual contribution: Conceptualization — P.K.; Methodology — S.S.; Formal Analysis —S.S.; Investigation — S.S.; Writing — Original Draft — S.S.; Writing —Review & Editing — C.K.; Supervision — P.K. and C.K.; Project Administration — C.K.
Declaration of conflicting interests: The Authors declare that there is no conflict of interest.
JEL Classification: C30, G3, G32
Received: 23.01.2023
Accepted: 30.08.2023
Published online: 31.08.2023
How to cite this paper: Kalantonis, P., Schoina, S., & Kallandranis, C. (2023). The impact of the corporate governance on firm performance: Evidence from the Greek listed firms [Special issue]. Journal of Governance & Regulation, 12(3), 255–265. https://doi.org/10.22495/jgrv12i3siart7