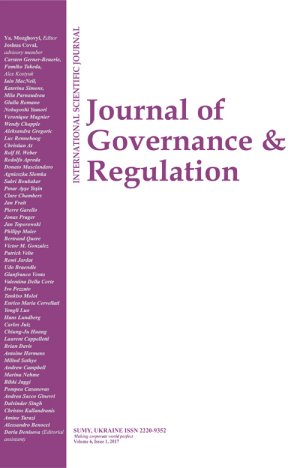 The impact of the governance code on the management of results of listed companies in the emerging market
Download This Article

This work is licensed under a Creative Commons Attribution 4.0 International License.
Abstract
Good governance should contribute to improving the company's performance by providing the board of directors with the opportunity to ensure that it acts in the best interests of the shareholders (Fan, Radhakrishnan, & Zhang, 2021). Governance codes, composed of a set of voluntary recommendations, have been developed throughout the world. To date, the question of their effectiveness remains largely open and debated in the international context, and in Morocco in particular. The objective of this paper is to study the influence of compliance with a governance code on performance management practices in Morocco. In particular, it explores whether there is an impact of the corporate governance code via a compliance score on performance management (sales manipulation, abnormal production costs and discretionary expenditure manipulation). This paper uses a panel of data from 54 listed Moroccan non-financial firms from 2013 to 2020. The results of the study show that listed firms have gradually increased their compliance with the code. It appears that some of the code's recommendations are more effective in managing results Furthermore, code compliance and the evolution of code compliance are negatively associated with accounting management and actual earnings management. The code's provisions on the management board and specialised committees seem to limit the management of results. These results seem to confirm the positive impact of the governance code on the quality of accounting results.
Keywords: Corporate Governance, Management Accounting, Listed Companies, Governance Codes
Authors' individual contribution: Conceptualization — F.D. and L.T.; Methodology — F.D. and L.T.; Software — F.D.; Validation — L.T.; Formal Analysis — F.D.; Investigation — F.D.; Resources — F.D.; Data Curation — F.D.; Writing — Original Draft — F.D. and L.T.; Writing — Review & Editing — F.D. and L.T.; Visualization — F.D. and L.T.; Supervision — L.T.; Project Administration — L.T.
Declaration of conflicting interests: The Authors declare that there is no conflict of interest.
JEL Classification: G3, G30, G32, G34, O16
Received: 07.12.2021
Accepted: 22.04.2022
Published online: 25.04.2022
How to cite this paper: Daidai, F., & Tamnine, L. (2022). The impact of the governance code on the management of results of listed companies in the emerging market. Journal of Governance & Regulation, 11(2), 181–193. https://doi.org/10.22495/jgrv11i2art16