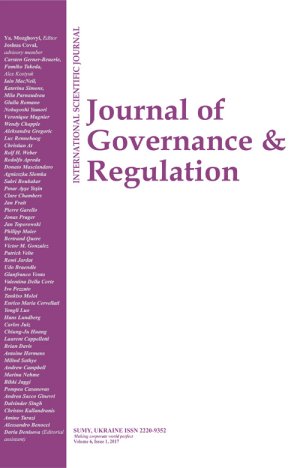 The role of a well-established food retail firm in Greek economy in the era of economic crisis
Download This Article
Nikolaos Zisoudis, Eleni Zafeiriou
, Alexandros Garefalakis
, Ioannis Passas
, Konstantina Ragazou

This work is licensed under a Creative Commons Attribution 4.0 International License.
Abstract
The economic crisis in Greece has provoked a number of financial problems in Greek firms in all sectors. High tax rates, low payments and in sequence low demand for goods and services are a few of the problems confronted by firms and consumers. Within the framework of the Memorandum, a number of different corporate efforts have become a cornerstone of economic recovery. An effective and critical factor for venture success has validated the networking along with entrepreneurial competencies (Kyrgidou Mylonas, Petridou, & Vacharoglou, 2021). The present work makes an effort with the assistance of visual tools and descriptive statistics to unveil the role of a retail market firm in the developing economy of Greece. Using an analytical presentation of financial and innovation initiatives in the retail market store chain of Masoutis and based on our findings we confirm a positive contribution to the country's economic growth in a disproportionate rate to the country's economic performance. The specific effect is attributed to the growth rates in employment, productivity and sales. Our findings are in line with Kyrgidou et al. (2021) since we implicitly confirm that well-organized initiatives concerning networking coupled with good marketing practices provide opportunities to firms for expansion, and efforts of this type may add value to the sector and the total economy opening the way to recovery from the economic crisis.
Keywords: Financial Crisis, Unemployment, Investments, Disposable Income, Taxes, GDP
Authors' individual contribution: Conceptualization — N.Z., E.Z.; Methodology — N.Z.; Software — N.Z.; Validation — A.G.; Formal Analysis — I.P. and K.R.; Investigation — N.Z. and K.R.; Resources — N.Z.; Data Curation — N.Z. and I.P.; Writing — Original Draft — N.Z.; Writing — Review & Editing — E.Z.; Visualization — A.G.; Supervision — E.Z.; Project Administration — N.Z., E.Z., and A.G.
Declaration of conflicting interests: The Authors declare that there is no conflict of interest.
JEL Classification: E21, E32, E52
Received: 14.04.2022
Accepted: 26.10.2022
Published online: 28.10.2022
How to cite this paper: Zisoudis, N., Zafeiriou, E., Garefalakis, A., Passas, I., & Ragazou, K. (2022). The role of a well-established food retail firm in Greek economy in the era of economic crisis [Special issue]. Journal of Governance & Regulation, 11(4), 215–223. https://doi.org/10.22495/jgrv11i4siart2