Thematic collections of papers: An update for 2019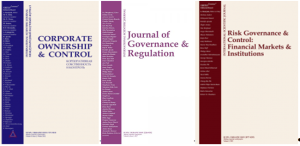 The team of the publishing house "Virtus Interpress" has updated thematic collections of papers published in our journals recently. The collections cover various topics within finance, corporate governance, financial regulation and risk management.
The links to all collections are gathered in one place so that they can be easily found and accessed:
Corporate Ownership and Control Journal
Earnings Management here

Ownership Structure here

Corporate (Firm) Performance here

Islamic Governance here

Financial Reporting here

Corporate Governance in Financial Companies (Banks) here

Board of Directors here

Audit and Accounting here
Journal of Governance and Regulation
Corporate Governance and Audit here

Governance and Regulation in Banks here
Risk Governance and Control: Financial Markets & Institutions
Risk Management Issues in Firms and Banks here

Insurance Issues here

Accounting and Audit here
You can place this page in the bookmarks because future collections will be added here and you will have an easy and comfortable access to them.