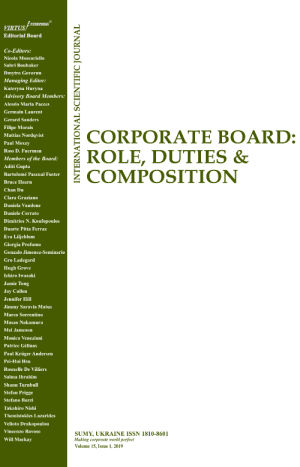 A PRACTITIONER'S RESEARCH: DIRECTOR REMUNERATION IN UKRAINE
Download This Article
Alexander Kostyuk
Abstract
Remuneration of members of the supervisory boards in Ukrainian joint-stock companies is the most controversial issue of the corporate board practices.
Despite the firm belief of the shareholders that the director remuneration is one of the most important factors influencing the board performance, there are
still many companies (21 per cent) where directors are not remunerated for their work on the supervisory board. This report examines practices of the director's remuneration in Ukraine.
Key words: Supervisory Board, Executive Remuneration, Board Practices, Board Performance
How to cite this paper: Kostyuk, A. N. (2006). A practitioner's research: Director remuneration in Ukraine. Corporate Board: role, duties and composition, 2(2), 37-42. https://doi.org/10.22495/cbv2i2art4