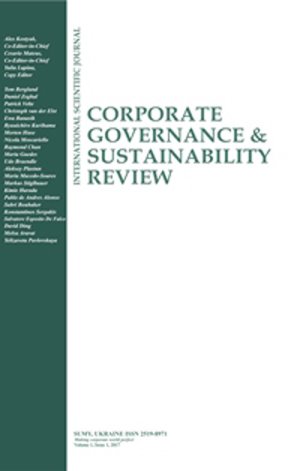 An operational approach to financial stability: On the beneficial role of regulatory governance
Download This Article
Tarika Singh Sikarwar
, Saurav Sharma

This work is licensed under a Creative Commons Attribution 4.0 International License.
Abstract
The reviews have shown that regulatory governance increases the economic growth of the country that further improves the financial stability. Weak governance promotes a weak financial sector. It is established that there are several crises took place in ancient times because of failed policy (Greco, Ishizaka, Tasiou, & Torrisi, 2019; Kuc Czarnecka, Lo Piano, & Saltelli, 2020). The purpose of the research is to find out more about how weak governance can damage the economy of nations, and that is how it leads to financial instability. Besides, how good governance leads to economic stability can also be understood. The research problem presented in terms of the objective of the research is to find out the association between financial stability and regulatory governance for the selected nations under study. This is done by taking a sample of fifteen nations of the world. By taking selective indicators for regulatory governance and financial stability and applying the causality test, the association is checked. The results indicate a less significant association between regulatory governance and financial stability for nations under study. The results are relevant in continuously expanding global financial markets wherein emphasis is strong regulations.
Keywords: Regulatory Governance, Financial Stability, Developed Nations, Developing Nations, Returns
Authors' individual contribution: Conceptualization – T.S.S.; Methodology –T.S.S.; Formal Analysis – T.S.S.; Investigation – T.S.S.; Writing –T.S.S.; Original Draft – T.S.S. and S.S.; Writing – Review & Editing – T.S.S.; Resources – T.S.S.; Visualization – T.S.S.; Supervision –T.S.S.
Declaration of conflicting interests: The Authors declare that there is no conflict of interest.
JEL Classification: G32, G39, F65, O16
Received: 05.03.2020
Accepted: 15.05.2020
Published online: 22.05.2020
How to cite this paper: Sikarwar, T. S., & Sharma, S. (2020). An operational approach to financial stability: On the beneficial role of regulatory governance. Corporate Governance and Sustainability Review, 4(1), 74-81.
https://doi.org/10.22495/cgsrv4i1p7