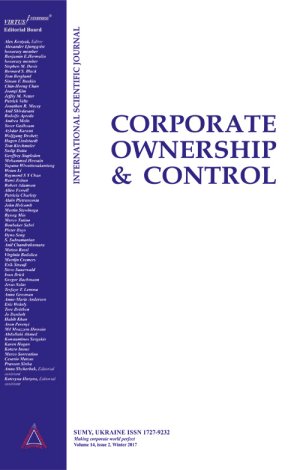 Audit committee gender diversity and audit fees: The role of dual-class share structure
Download This Article
Ayishat Omar

This work is licensed under a Creative Commons Attribution 4.0 International License.
Abstract
The paper examines the role of dual-class share structure on the nexus between the presence of at least one female member on the audit committee (gender diversity) and audit fees. The study estimates a regression model using 2,519 firm-year observations for 475 public U.S. firms, and in line with the view that gender diversity helps firms to be more attentive and committee members act within their control to ensure a higher level of audit coverage, the study finds that gender diversity is associated with higher audit fees. Further, this study reports that the interaction of dual-class share structure and gender diversity is associated with lower audit fees. This highlights the merits of dual-class share structures which continue to be a subject of much debate. This study also contributes to the literature that provides insight into how context or situational factors moderate the impact of gender diversity on audit fees.
Keywords: Audit Fees, Gender Diversity, Audit Committee, Dual-Class Shares
Authors' individual contribution: The Author is responsible for all the contributions to the paper according to CRediT (Contributor Roles Taxonomy) standards.
Declaration of conflicting interests: The Author declares that there is no conflict of interest.
JEL Classification: M42, G32, M41, M40
Received: 10.06.2022
Accepted: 20.01.2023
Published online: 23.01.2023
How to cite this paper: Omar, A. (2023). Audit committee gender diversity and audit fees: The role of dual-class share structure. Corporate Ownership & Control, 20(2), 84–92. https://doi.org/10.22495/cocv20i2art7