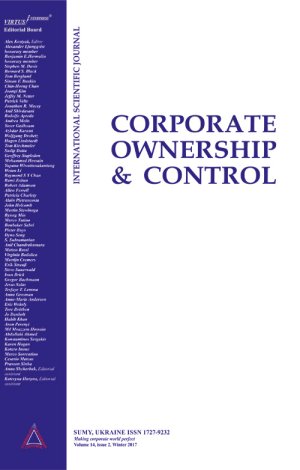 BOARD, GOVERNANCE AND FIRM PERFORMANCE: ARE FINANCIAL INTERMEDIARIES DIFFERENT?
Download This Article
Marina Brogi
DOI:10.22495/cocv8i2sip6
Abstract
Drawing on Agency Theory this article investigates the relationship between board size and European firms' performance. The focus is on the implicit differences between financial and non-financial firms. In particular the paper addresses the following questions: does board size influence firm performance? Is financial intermediaries' corporate governance different from that of non-financial companies? The study analyses the governance of the largest listed European companies which make up the Eurotop 100 index. Companies come from 12 different countries and are subject to different regulatory and self-discipline codes. Referring to the Eurotop index the focus is on the relation between the overall size of the board of directors and the level of performance measured as Tobin's Q and Return on Assets. Diverging results emerge depending on the typology of the firm. In particular, results suggest that for non-financial companies large boards negatively influence firm performance, whereas financial intermediaries seem to be different because of the non-relation between their board size and performance.
Keywords: Corporate Governance, Board Size, Financial Intermediaries, Two-tier Board Structure, Europe
How to cite this paper: Brogi, M. (2011). Board, governance and firm performance: Are financial intermediaries different? [Special issue]. Corporate Ownership & Control, 8(2), 60-68. http://dx.doi.org/10.22495/cocv8i2sip6