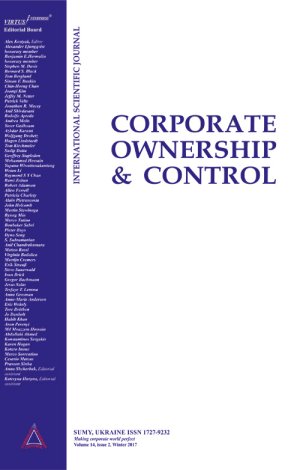 CORPORATE OWNERSHIP CHOICE BASED ON ETHICAL CRITERIA: IS IT BIG ENOUGH TO NOTICE?
Download This Article
Charl de Villiers
, Chris Van Staden
Abstract
Ethical investors often exclude firms that participate in so-called controversial activities, such as tobacco, alcohol, firearms, gambling, the military, and nuclear operations, from their investment portfolios. Firms excluded in this way should experience an increase in their cost of capital and a reduction in their share prices. We use the KLD database to identify S&P 500 firms involved in controversial activities. Our results show no difference between controversial activity firms and other firms regarding relative share price and we find that the cost of capital of controversial activity firms is in fact lower. We conclude that ethical investing, of the type that excludes controversial activity firms, does not influence the capital markets in the expected way.
Keywords: Corporate Ownership, Ethical Investing, Comparison of Risk and Return, Controversial Activity Firms
How to cite this paper: De Villiers, C., & van Staden, C. (2010). Corporate ownership choice based on ethical criteria: Is it big enough to notice? Corporate Ownership & Control, 8(1), 24-36. https://doi.org/10.22495/cocv8i1p2