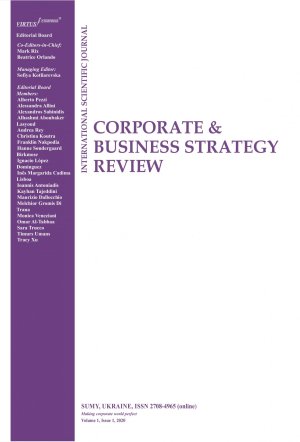 Corporate governance and cost of equity: An empirical investigation of the United Arab Emirates stock market
Download This Article
Ahmad Faisal Hayek
, Mohammad Salem Oudat
, Basel J. A. Ali
, Talal Al-Alkawi
, Mohammed Fawzi Abu El Haija

This work is licensed under a Creative Commons Attribution 4.0 International License.
Abstract
The set of rules, laws, and procedures that lead and regulate a firm is known as corporate governance (Alqaraleh et al., 2022). The primary objective of this study was to investigate the effect of the corporate governance index on the cost of equity for businesses listed on the United Arab Emirates (UAE) Stock Exchange. This study gathers data from yearly reports from 2015 to 2021 in order to test hypotheses using multiple linear regression models to analyze the gathered data. The independent variable of the corporate governance index in our research consists of eight distinct corporate governance characteristics. According to the findings of our investigation, there is a negative correlation between corporate governance and equity capital cost. This indicates that the quality of corporate governance may lower the cost of capital. In order to improve the quality of financial reporting, we advocate implementing a robust corporate governance framework and reducing information asymmetry, i.e., increasing transparency and agency conflict, therefore, attracting financial investors and suppliers, enhancing the capital market, and absorbing the organization's required financial resources at a reduced rate. The study results suggest that corporations might minimize the cost of equity by creating excellent corporate governance. In the cost of equality, the result of the study emphasizes the significance and efficacy of corporate governance.
Keywords: Corporate Governance, Index of Corporate Governance, Cost of Equity
Authors' individual contribution: Conceptualization — A.F.H.; Methodology — M.S.O.; Software — B.J.A.A.; Investigation — B.J.A.A.; Resources — T.A.-A.; Writing — T.A.-A.; Supervision — M.F.A.E.H.
Declaration of conflicting interests: The Authors declare that there is no conflict of interest.
JEL Classification: D63, G12, G32, G34, Q52
Received: 13.12.2022
Accepted: 08.09.2023
Published online: 12.09.2023
How to cite this paper: Hayek, A. F., Oudat, M. S., Ali, B. J. A., Al-Alkawi, T., & Abu El Haija, M. F. (2023). Corporate governance and cost of equity: An empirical investigation of the United Arab Emirates stock market. Corporate & Business Strategy Review, 4(4), 24–31. https://doi.org/10.22495/cbsrv4i4art3