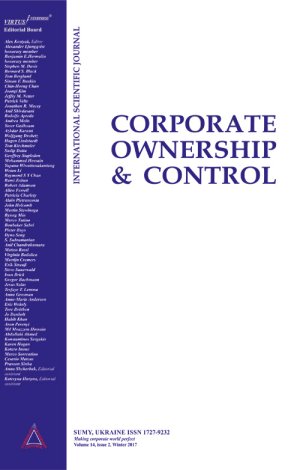 DIMENSION, STRUCTURE AND SKILL MIX IN EUROPEAN BOARDS: ARE THEY CONVERGING TOWARDS A COMMON MODEL OF CORPORATE GOVERNANCE?
Download This Article
Paola Schwize, Vincenzo Farina
, Valeria Stefanelli
Abstract
Using a large sample of European listed Companies and their Directors our study supports the hypothesis that European corporate governance do not yet converging towards a common model. Our results put in evidence in fact the existence of three dominant corporate governance profiles in European listed companies, different each others. The determinants of these profiles depend on the typical governance system adopted by the same companies and on country"s culture and history; as a consequence, each of them has a own attitude of the board, in terms of structure, organization and skill mix characteristics. Finally we suggest some important implications on European governance practices.
Keywords: European Corporate Governance, Board of Directors, Boards' Roles Effectiveness
How to cite this paper: Schwize, P., Farina, V., & Stefanelli, V. (2010). Dimension, structure and skill mix in European boards: Are they converging towards a common model of corporate governance? Corporate Ownership & Control, 8(1), 87-107. https://doi.org/10.22495/cocv8i1p8