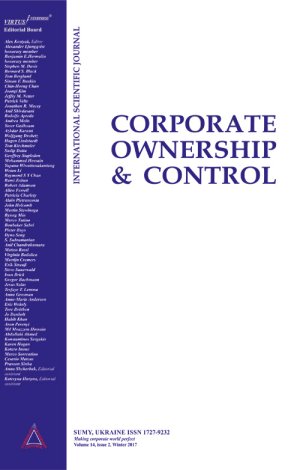 DOES CHAIRMAN INDEPENDENCE MATTER?
Download This Article
Hafiza Aishah Hashim
, Susela Devi Suppiah
Abstract
This paper examines the relationship between the role of non-executive (independent) chairman and the quality of reported earnings. Recent corporate governance reforms recommend firms to appoint an independent leader to ensure the success of a split leadership structure (The Combined Code on corporate Governance, 2006; Higgs Report, 2003). Research on leadership structure to date has tended to focus solely on role duality and find weak or insignificance relationship between role duality and financial reporting quality. Although separating the roles of the chairman and the CEO seems appropriate, researcher argue that it would not necessarily lead to independence of the board if the chairman is not independent. Consistent with recent recommendations to strengthen board leadership by appointing an independent chair, this study evidences a positive and significant association between non-executive chairman and earnings quality in Malaysia. The study suggests that the non-executive status of the chairman is an important mechanism in enhancing the board"s independence, thus improving earnings quality.
Keywords: Corporate Governance, Leadership Structure, CEO Duality, Earnings Quality
How to cite this paper: Hashim, H. A., & Suppiahi, S. D. (2010). Does chairman independence matter? Corporate Ownership & Control, 8(1), 108-116. https://doi.org/10.22495/cocv8i1p9