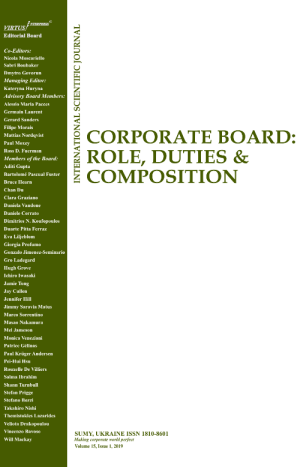 DOES FIRM PERFORMANCE AFFECT BOARD INDEPENDENCE?
Download This Article
Abstract
This paper seeks to shed some light on the antecedents of board independence. Specifically, it attempts to test the conceptual frameworks which make different predictions about the effect of firm performance on the level of board independence. The results provide support for the perspective that appointing more independent members to the boards may merely represent firms' attempts to comply with institutional pressures. It is found that higher blockholder shareholdings lead to lower independence on the board, and audit and remuneration committees. Moreover, larger firms have relatively more independent directors sitting on nomination and remuneration committees.
Keywords: Australia; board committees; board composition; board independence; corporate governance models; financial performance
How to cite this paper: Wang, Y., & Young, A. (2010). Does firm performance affect board independence? Corporate Board: role, duties and composition, 6(2), 6-19. https://doi.org/10.22495/cbv6i2art1