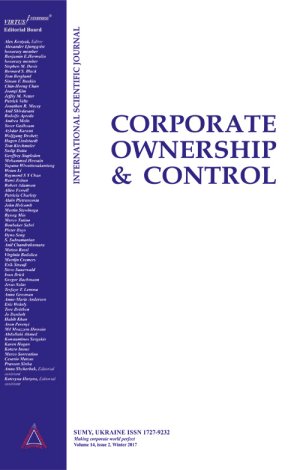 DOES THE MANDATORY BID RULE INCREASE VALUATION, LIQUIDITY, AND DECREASE RISK?
Download This Article
Andre Carvalhal da Silva
, Julian Nicolau
Abstract
This study analyzes whether the mandatory bid rule has an impact on firm valuation, liquidity and volatility. Using data from Brazilian firms that have voluntarily granted the bid rule, we provide evidence of a positive relation between bid rule, firm valuation and liquidity. In contrast, the bid rule does not decrease firm volatility. Our results support the hypotheses that the bid rule strengthens the protection for minority shareholders.
Keywords: Corporate Governance, Firm Valuation, Volatility, Brazil
How to cite this paper: Carvalhal da Silva, A. & Nicolau, J. (2009). Does the mandatory bid rule increase valuation, liquidity, and decrease risk? Corporate Ownership & Control, 7(2), 66-70. https://doi.org/10.22495/cocv7i2p5