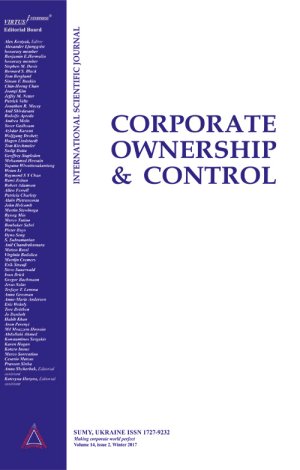 ENLIGHTENED SHAREHOLDER THEORY: WHOSE INTERESTS SHOULD BE SERVED BY THE SUPPORTERS OF CORPORATE GOVERNANCE?
Download This Article
Abstract
This paper questions the feasibility of corporate governance and a company's Board Members being able to serve two masters at once: shareholders; and the many different agents inhabiting the labyrinth of the stakeholder universe. Absurdist reasoning will be used to demonstrate the theoretical impossibility of a dual legitimacy. An alternative 'Enlightened shareholder theory' will be proposed, inspired by Jensen's 'Enlightened partnership theory' (2001). After demonstrating that a company's interest is not synonymous with the interests of its shareholders, a proposition will be made that Board Members should always highlight social interests. The paper's conclusion will identify the consequences of the new theoretical framework for the definition of corporate governance; Board Members' missions; and the composition of a Board of Directors.
Keywords: Company Performance, Corporate Governance, Principles of Corporate Governance, Shareholder Value, Board Members, Board of Directors, Value Creation, Enlightened Partnership Theory, Enlightened Shareholder Theory
How to cite this paper: Pichet, E. (2011). Enlightened shareholder theory: Whose interests should be served by the supporters of corporate governance? Corporate Ownership & Control, 8(2-3), 354-362. https://doi.org/10.22495/cocv8i2c3p3