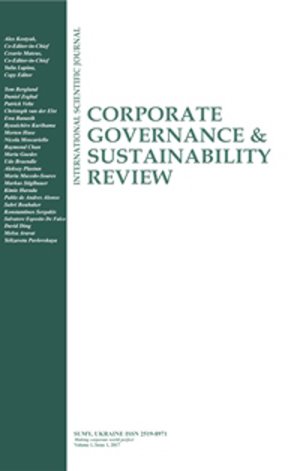 Endemic corporate responsibility dimensions in the developing economy: An exploratory study
Poojaa Gokarna
, Bala Krishnamoorthy
Abstract
The current understanding of corporate social responsibility (CSR) and its associated dimensions have majorly been developed by western researchers (Xu & Yang, 2010). An exhaustive study of CSR as a concept based in the specific socio-cultural settings of India is imminent (Mohan, 2001). Hence, this research is predominantly intended to identify the endemic CSR dimensions as well as the actions that constitute these dimensions for organisations based in India. The official company website is the common communication medium for publishing information about CSR. Therefore, inductive research was conducted for twenty-seven corporate websites of companies in India using qualitative content analysis. Nine dimensions of CSR along with the actions that constitute these dimensions were identified. The dimensions are economic dimension, environment protection, ethical consideration, employee, consumerism, community development, legal, stakeholder expectation and philanthropy. Thus, this study helps develop knowledge and understanding about CSR within a specific context, i.e., India. This research will lend a holistic perspective for creating a CSR strategy for an organisation.
Keywords: Corporate Social Responsibility, Endemic CSR Dimensions, CSR Activities, Inductive Research, Social Responsibility, CSR Communication, Content Analysis
Authors' individual contribution: Conceptualization – P.G. and B.K.; Methodology – P.G.; Software – P.G.; Validation – P.G.; Formal Analysis – P.G.; Investigation – P.G.; Resources – B.K.; Data Curation – P.G.; Writing – Original Draft – P.G.; Writing – Review & Editing – B.K.; Visualization – P.G.; Supervision – B.K.; Project Administration – P.G. and B.K.
Declaration of conflicting interests: The Authors declare that there is no conflict of interest.
JEL Classification: M10, M14, M19
Received: 25.05.2020
Accepted: 22.01.2021
Published online: 26.01.2021
How to cite this paper: Gokarna, P., & Krishnamoorthy, B. (2021). Endemic corporate responsibility dimensions in the developing economy: An exploratory study. Corporate Governance and Sustainability Review, 5(1), 31-38. https://doi.org/10.22495/cgsrv5i1p4

The payment can be made with credit/debit card via secure payment system provided by Ukrainian processing center. During the payment, you will probably receive an SMS from your bank with the password to confirm the transaction. The price in Euro is an oriented one. The payment will be charged in UAH according to the exchange rate of your payment card provider. Once the payment is made we will process it ASAP and our representative will contact you to deliver the service/confirm the payment.