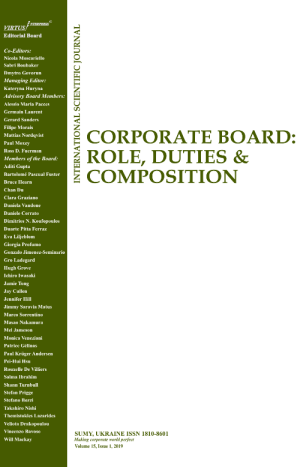 Female CEO and board composition: A gender rivalry approach to family firms
Download This Article
Ilaria Galavotti
, Carlotta D'Este

This work is licensed under a Creative Commons Attribution 4.0 International License.
Abstract
This paper investigates the impact of female chief executive officers (CEOs) on women's representation on the board of directors (BoD). As scholars maintain that positive effects exerted by board gender diversity on firms' performance depend on the achievement of a critical mass, we focus on the role of female CEOs as a determinant of the number of appointed women in the context of family businesses, exploring how the persistence of gender stereotypes, along with homosocial reproduction and individual socio-emotional wealth (SEW) objectives affect tokenism phenomena. We test our hypothesis on a sample of 70 listed family firms in the 2014–2021 period. Consistently with our prediction, our findings provide evidence of a negative association between female CEOs and the number of female directors, thus suggesting that family businesses' dominant male coalitions and SEW matters may hinder female inclusiveness to avoid inter-group dysfunctionalities in decision-making.
Keywords: Female CEO, Critical Mass, Tokenism, Socio-Emotional Wealth, Board Gender Diversity, Dominant Coalition
Authors' individual contributions: Conceptualization — I.G. and C.D.; Methodology — I.G.; Formal Analysis — C.D.; Writing — Original Draft — I.G. and C.D.; Writing — Review & Editing — I.G. and C.D.; Visualization — I.G. and C.D..; Funding Acquisition — C.D.
Declaration of conflicting interests: The Authors declare that there is no conflict of interest.
JEL Classification: L21, L25, M10
Received: 12.04.2023
Accepted: 25.05.2023
Published online: 26.05.2023
How to cite this paper: Galavotti, I., & D'Este, C. (2023). Female CEO and board composition: A gender rivalry approach to family firms. Corporate Board: Role, Duties and Composition, 19(1), 8–19. https://doi.org/10.22495/cbv19i1art1