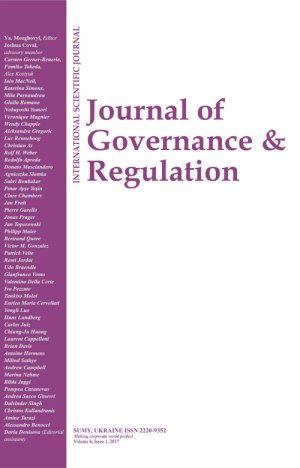 Green information technology and environmental performance of the banks
Download This Article
Anthonypillai Anton Arulrajah
, Samithamby Senthilnathan
, Mudithā Priyadarshani Rathnayake
DOI:10.22495/jgrv9i3art2

This work is licensed under a Creative Commons Attribution 4.0 International License.
Abstract
Information technology (IT) moves at a fast rate of utilizing modern electrical equipment. Thus, all the sectors of the world economy do face challenges to deal with the environmental problems and their impacts on the work environment and green information technology (GIT) become important to play its role in an efficient and environmentally friendly manner (McCabe, 2009). In Sri Lanka, banks recently shift towards green IT (GIT) practices. However, there is a gap in the literature, and empirical investigations regarding the relationships among GIT practices, environmental performances of banks (EPB) and employees' attitudes on GIT (EAG). Hence, this study aims to explore the relationship between GIT in place and EPB and to assess the possible mediating role of EAG in the relationship between GIT and EPB. The analyses reveal that GIT practices have a positive relationship to and significant impact on EPB. The study also confirms the mediating partial role of EAG in the relationship between GIT and EPB. This study especially contributes to empirically understand the same as an addition to fill the literature gap in relation to GIT, EPB, and EAG.
Keywords: Information Technology, Green Information Technology, Employee, Attitude, Environmental Performance, Bank
Authors' individual contribution: Conceptualization – A.A.A.; Methodology – A.A.A.; Software – A.A.A.; Validation – S.S.; Formal Analysis – A.A.A.; Investigation – M.P.R.; Resources – M.P.R.; Data Curation – A.A.A.; Writing – Original Draft – M.P.R.; Writing – Review & Editing – S.S.; Visualization – S.S.; Supervision – A.A.A.; Project Administration – S.S.; Funding Acquisition – M.C.
Declaration of conflicting interests: The Authors declare that there is no conflict of interest.
JEL Classification: Q00, Q01, Q51, Q52, Q53, Q55, Q56, O3, O32, O53, J00
Received: 01.06.2020
Accepted: 20.07.2020
Published online: 23.07.2020
How to cite this paper: Arulrajah, A. A., Senthilnathan, S., & Rathnayake, M. P. (2020). Green information technology and environmental performance of the banks. Journal of Governance & Regulation, 9(3), 27-39. https://doi.org/10.22495/jgrv9i3art2