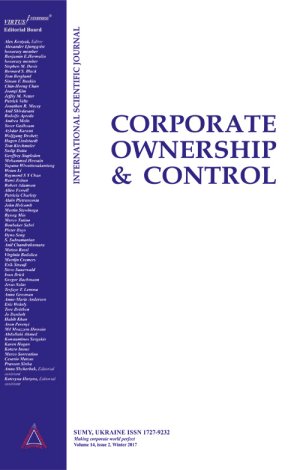 HOW DOES CORPORATE VOLUNTARY DISCLOSURE AFFECT ASYMMETRIC INFORMATION AND ADVERSE SELECTION?
Download This Article
Amal Hamrouni, Anthony Miloudi
, Ramzi Benkraiem
Abstract
This paper investigates whether the extent of corporate voluntary disclosure mitigates asymmetric information and adverse selection in the Euronext Paris stock exchange. We apply a disclosure index as a proxy for the extent of voluntary disclosure and use different spread measures to estimate both asymmetric information and adverse selection. Our findings show a negative relationship between the disclosure index and asymmetric information and adverse selection proxies. An analysis of sub-indexes provides additional mixed results. Several asymmetric information measures are negatively related to the volume of financial, non-financial and voluntary governance information in corporate annual reports. Nevertheless, the effect of strategic information volume is statistically significant only for effective bid-ask spreads. On the whole, these results are consistent with the view that high corporate voluntary disclosure is associated with narrow spreads and low adverse selection costs.
Keywords: Corporate Voluntary Disclosure, Asymmetric Information, Adverse Selection, Annual Reports, France
How to cite this paper: Hamrouni, A., Miloudi, A., & Benkraiem, R. (2015). How does corporate voluntary disclosure affect asymmetric information and adverse selection? Corporate Ownership & Control, 12(2-4), 413-425. https://doi.org/10.22495/cocv12i2c4p1