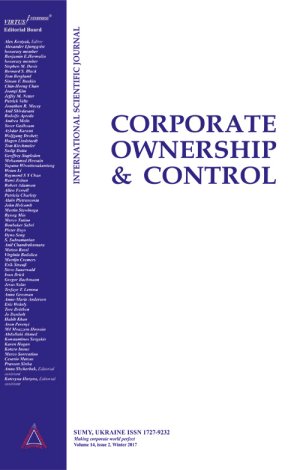 HOW IS THE ALLOCATION IN BRAZILIAN BOOKBUILDING EQUITY OFFERINGS?
Download This Article
Richard Saito
, João André Marques Pereira
Abstract
We examine five bookbuilding processes in the Brazilian equity market from 2003 to 2004. In a bookbuilding process, the investment bank has the discretionary power to price the offer and to allocate shares among interested investors. We analyze the allocation determinants and we find empirical evidence that bookbuilding process induce investors to disclose superior information. In addition, we also find evidence that bookbuilding process allows the investment bank to benefit disperse ownership as well as to have a higher allocation for long-term investors.
Keywords: Equity Offerings, Brazil, Bookbuilding, Ownership
How to cite this paper: Saito, R., & Marques Pereira, J. A. M. (2007). How is the allocation in Brazilian bookbuilding equity offerings? [Special issue]. Corporate Ownership & Control, 5(1-4), 397-405. https://doi.org/10.22495/cocv5i1c4p7