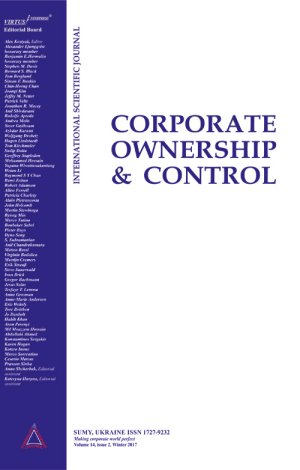 INVESTOR PROTECTION, SHARE REPURCHASES, IRRATIONALITY AND AGENCY CONFLICTS: THE IMPLICATIONS FOR CORPORATE GOVERNANCE
Download This Article
Ganggang Zhang, Richard Fairchild
DOI:10.22495/cocv4i1c2p1
Abstract
This paper provides a theoretical analysis of the effects of the strength of investor rights on a firm's share repurchase policy in the face of agency conflicts and behavioural biases. We consider three reasons for firms to repurchase their shares; to eliminate agency costs of free cash-flow, to time the market, and to cater to investors. In the first case, we demonstrate that investor rights and repurchases may be complements or substitutes in addressing free cash flow problems. In the second case, we argue
that stronger investor rights increase informational disclosure which reduces the ability to time the market using repurchases. In the final case, we argue that stronger investor rights may reduce valuereducing repurchase catering. We consider the corporate governance implications of our analysis, and
discuss the effects of behavioural factors, such as bounded rationality, overconfidence, and regret, on the efficacy of governance systems to deal with the problems relating to repurchases.
Keywords: corporate governance, agency conflicts, investor protection
How to cite this paper: Zhang, G., & Fairchild, R. (2006). Investor protection, share repurchases, irrationality and agency conflicts: The implications for corporate governance. Corporate Ownership & Control, 4(1-2), 248-257. http://dx.doi.org/10.22495/cocv4i1c2p1