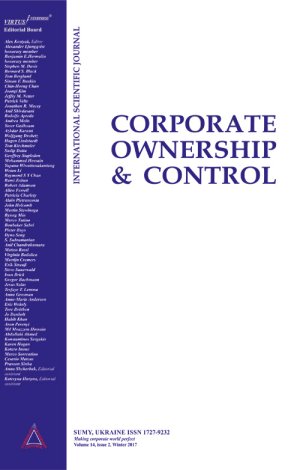 IS GOOD CORPORATE GOVERNANCE PRACTICE THE PANACEA FOR SMALL-TO-MEDIUM BUSINESSES OPERATING IN THE SOUTH AFRICAN RETAIL SECTOR?
Download This Article
Athenia Bongani Sibindi
, Augustine Oghenetejiri Aren
Abstract
The small, micro and medium business enterprises (SMMEs) sector is universally acclaimed for fostering economic growth in many economies. The health of this sector is largely premised on the observance of good corporate governance tenets. The purpose of this paper is to determine whether good corporate governance practice has been firmly embedded in the small-to-medium enterprise (SMMEs) sector in South Africa. In this study we interrogate the influence of good internal control systems, with a special focus on cash flow management practices on the survival or growth of the SMMEs. This paper utilised qualitative research methods and employed the survey technique amongst the SMMES operating in the retail sector of Pretoria in South Africa. We find evidence that good corporate governance practices enhance cash flow management processes. This is extremely important to the survival of a business, particularly small businesses, and poor corporate governance practices lead to weak cash flow management systems, which can thus lead to small business failure. We also proffer policy advice as to the remedial actions needed to safeguard this sector.
Keywords: Corporate Governance, Cash Flow, Small Business, Economy, Financial Management, South Africa
How to cite this paper: Sibindi, A. B, &. Aren, A. O. (2015). Is good corporate governance practice the panacea for small-to-medium businesses operating in the South African retail sector? Corporate Ownership & Control, 12(2-6), 579-589. https://doi.org/10.22495/cocv12i2c6p1