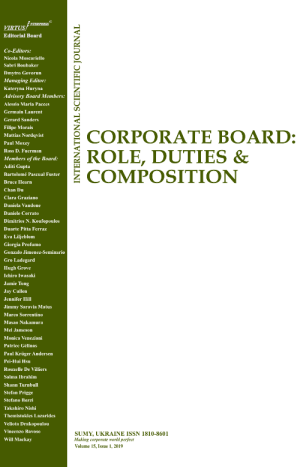 IS THERE A RELATIONSHIP BETWEEN DIRECTORS REMUNERATION AND FIRM PERFORMANCE?
Download This Article
Rashidah Abdul Rahman
, Siti Noor Hayati Mohamad Zawawi
Abstract
The primary objective of the study is to determine whether there is a positive relationship between directors' fees with the size of the firm and performance, based on the annual report of 246 listed firms. The results indicate a weak positive relationship between directors' remuneration, corporate size (total assets) and corporate performance (operating cash flow on asset). The weak positive relationship between director fees and performance indicates that
other factors, such as the director's yearly performance, may also account for the determination of the director's remuneration. The findings support the notion of agency theory and corporate governance that remunerating the top management should be based on individual and corporate performance. In contrast, other performance variables such as return on assets (ROA) and earning per share (EPS) measured indicates no statistical association.
Keywords: director remuneration, company performance, EPS, agency theory
How to cite this paper: Rahman, R. A., & Zawawi , S. N. H. M.(2005). Is there a relationship between directors remuneration and firm performance? Corporate Board: role, duties and composition, 1(2), 39-48. https://doi.org/10.22495/cbv1i2art3