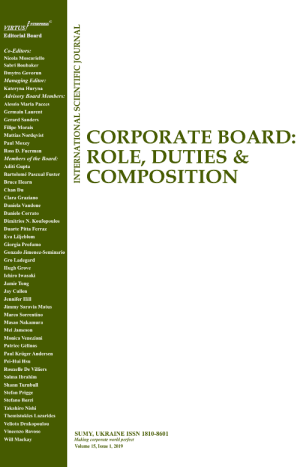 Impact of directors' remuneration on banks' performance: Evidence in the US banking system
Download This Article
Paolo Capuano

This work is licensed under a Creative Commons Attribution 4.0 International License.
Abstract
This paper explores the relationship between board director compensation and bank performance for the period 1999–2021, considering the US banking system. The literature in this area with reference to financial companies and banks is poorly developed and leads to mixed results. Furthermore, the studies have mainly focused on the remuneration of the chief executive officer (CEO), neglecting that of the board members (Minnick et al., 2011; Khumalo & Masenge, 2015; Iskandrani et al., 2018). The scientific analysis methodology adopted is based on the analysis of panel data. Firstly, the results of the data analysis make it possible to highlight the existence of a significant link between the remuneration policies adopted by banks concerning the corporate results obtained in terms of profitability. Secondly, the results show differences, in terms of impact on banking performance, between the remuneration of chief executive officers and the remuneration of directors. The results of this study can help banks identify best practices for bank management as well as provide useful insights to different categories of stakeholders, especially the bank regulators and supervisors.
Keywords: Bank Performance, Bank Profitability, Board of Directors, Corporate Governance, Director Remuneration
Authors' individual contributions: The Author is responsible for all the contributions to the paper according to CRediT (Contributor Roles Taxonomy) standards.
Declaration of conflicting interests: The Author declares that there is no conflict of interest.
JEL Classification: G01, G21, G34, M52
Received: 21.12.2022
Accepted: 25.01.2023
Published online: 27.01.2023
How to cite this paper: Capuano, P. (2022). Impact of directors' remuneration on banks' performance: Evidence in the US banking system. Corporate Board: Role, Duties and Composition, 18(3), 24–32. https://doi.org/10.22495/cbv18i3art3