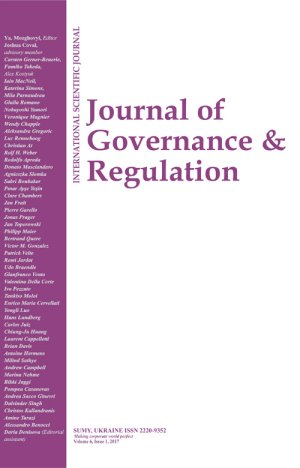 Judicial oversight as a form of governance in the face of administration arbitrariness in administrative decisions
Download This Article
Faisal Abdulhafez Alshawabkeh, Tayil Mahmoud Shiyab

This work is licensed under a Creative Commons Attribution 4.0 International License.
Abstract
This research explains judicial control as a form of governance in the face of arbitrary administrative decisions — the UAE is an example (Zwart, 2016). The aim of the study is to demonstrate how judicial control can contribute to achieving good governance of the administrative decisions in the absence of the legislative provisions related to the causes of cancellation of an administrative decision. The data were sourced from relevant books, journals, official texts, and courts decisions. The data obtained was analysed through descriptive and analytic methods. This paper is divided into three themes. The first tackles the incidents of abuse of power. The second demonstrates the ways in which abuses of power can be proved, and the third discusses the correlation between judicial control and good governance. The study found that the abuse of power is related to the discretionary power of the administration and that it is a latent defect related to the psychological intentions of the decision-maker and is difficult to prove, also that the administrative jurisdiction plays an important role in promoting the good governance. The study concluded that it is important for the UAE legislator to issue a law regulating the action for the annulment of administrative decisions.
Keywords: Good Governance, Discretionary Power, Judicial Control, Abuse of Power
Authors' individual contribution: Conceptualization — F.A.A. and T.M.S.; Methodology — F.A.A. and T.M.S.; Investigation — F.A.A. and T.M.S.; Resources — F.A.A. and T.M.S.; Visualization — F.A.A. and T.M.S.; Writing — Original Draft — F.A.A. and T.M.S.; Writing — Review & Editing — F.A.A. and T.M.S.; Supervision — F.A.A. and T.M.S.
Declaration of conflicting interests: The Authors declare that there is no conflict of interest.
Acknowledgements: The Authors would also extend their gratitude and appreciation to all who have helped carry out this research paper, and to all who have provided any facility to complete this work.
JEL Classification: K1, K14, K140
Received: 24.06.2021
Accepted: 25.10.2021
Published online: 28.10.2021
How to cite this paper: Alshawabkeh, F. A., & Shiyab, T. M. (2021). Judicial oversight as a form of governance in the face of administration arbitrariness in administrative decisions [Special issue]. Journal of Governance & Regulation, 10(4), 261–271. https://doi.org/10.22495/jgrv10i4siart6