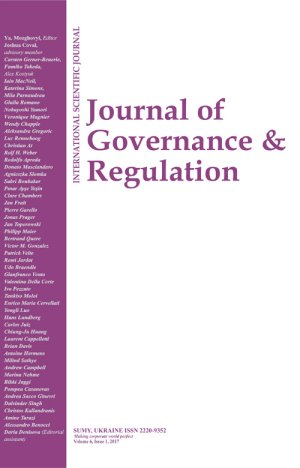 Macro-environmental scanning practices of small and medium manufacturing enterprises: Evidence from emerging markets
Download This Article
Mugove Mashingaidze
, Maxwell Agabu Phiri
, More Chinakidzwa

This work is licensed under a Creative Commons Attribution 4.0 International License.
Abstract
Most research on strategic management concentrates on strategy formulation and implementation. Little research considers environmental scanning (ES) and how small, and medium manufacturing enterprises (SMMEs) scan their environments in preparation for strategy formulation and implementation (Nandonde, 2019). This study investigates the environmental scanning behaviour of SMME owners/managers in a volatile environment, Zimbabwe in particular. The study employed a qualitative methodology to accomplish its objectives. The recorded in-depth interviews were transcribed and analysed using ATLAS.ti. The findings reveal that SMMEs in Zimbabwe emphasise scanning the political and economic environments as they are the most unstable. The results also illustrate that environmental scanning is a continuous, informal, and less structured activity, often using cheap, personal, and highly informal sources of information. Therefore, the paper concludes that contrary to the demands of strategic management literature, the informal and sequential environmental scanning behaviours of SMMEs support the growth and development of the sector. The study explored environmental scanning in a single country, Zimbabwe; therefore, generalisability is limited. The study results must be interpreted in light of this limitation.
Keywords: Environmental Scanning, Information Sources, Macro-Environment, Small and Medium Manufacturing Enterprises, Scanning Mode, Zimbabwe
Authors' individual contribution: Conceptualization — M.M.; Methodology — M.M.; Investigation — M.M.; Resources — M.A.P. and M.C.; Data Curation — M.A.P. and M.C.; Writing — Original Draft — M.M., M.A.P., and M.C.; Writing — Review & Editing — M.M., M.A.P., and M.C.
Declaration of conflicting interests: The Authors declare that there is no conflict of interest.
Acknowledgements: We would like to thank all the manufacturing SMEs and the official from the Department of SMEs, business development section for participating in the survey. We also acknowledge the role of the Ministry of Women Affairs, Community, Small and Medium Enterprises, the Ministry of Industry, Commerce and Enterprise Development, and the University of KwaZulu-Natal, South Africa.
JEL Classification: M19, C12, M10
Received: 26.05.2021
Accepted: 28.10.2021
Published online: 01.11.2021
How to cite this paper: Mashingaidze, M., Phiri, M. A., & Chinakidzwa, M. (2021). Macro-environmental scanning practices of small and medium manufacturing enterprises: Evidence from emerging markets [Special issue]. Journal of Governance & Regulation, 10(4), 282–292. https://doi.org/10.22495/jgrv10i4siart8