New issue of the Corporate Board: Role, Duties and Composition journal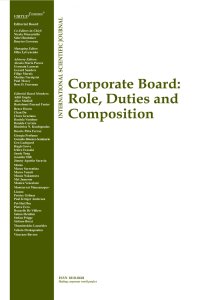 The editorial team of Virtus Interpress is delighted to publish the last issue of the journal Corporate Board: Role, Duties and Composition in 2021 (volume 17, issue 3). The issue presents papers of authors from different countries and continents: Italy, Germany, the USA, Jordan, and Kuwait.
The new issue of the journal analyses a wide range of topics devoted to the board of directors practices, such as board composition, board diversity, corporate governance, tenure diversity, educational diversity, firm performance, board policy, board interlocks, corporate acquisitions, isomorphism, inter-organizational imitation, working capital management, cash conversion cycle, family firms, family ownership, family board involvement, activist investors, employer brand, perceived organizational support, etc.
The full issue of the journal is available at the following link.
The issue starts with the paper by Mohammad A. Ta'Amnha, Omar M. Bwaliez, Ihab K. Magableh, Ghazi A. Samawi, and Metri F. Mdanat that investigates the role of COVID 19-related organizational support in creating and maintaining an attractive employer brand based on in-depth qualitative data drawn from 38 semi-structured interviews with humanitarian employees in Jordan during the pandemic.
Ilaria Galavotti offers an in-depth summary and discussion of how interlocking directorates of business elites influence corporate acquisitions. The paper develops a thematic analysis in which multiple research focuses are identified and elaborates on some potential avenues for future research.
Barbara Sveva Magnanelli, Giulia Paolucci, and Luca Pirolo study the impact on firm performance of two demographic diversity traits in boardrooms: tenure and educational diversity. The outcomes highlight a significant and positive relationship between tenure diversity on corporate boards and firm performance; no evidence indicating a positive effect of educational diversity on firm performance is found.
Fabio Franzoi aims to examine whether the type and degree of family involvement in the firm affect the efficiency of working capital management. Employing a partially hand-collected panel of 278 listed firms from 2000–2013 the author analyzes the impact of family shareholders as owners, managers, and supervisors on working capital handling in Germany.
Finally, Hugh Grove and Maclyn Clouse try to analyze whether an activist investor's recommendations for financial, corporate governance, and strategic management performances were successful or not, updating the initial case study of the activist investor, Barington Capital Group, in analyzing the performance of a public company, L Brands.
The papers in this issue use a wide range of methodologies and provide insightful findings that may also trigger future research in various corporate governance challenging issues, providing a solid contribution to the previous literature and are recommended for researchers and readers looking for some of the latest trends in the field. We hope that you will enjoy reading this issue of the journal!